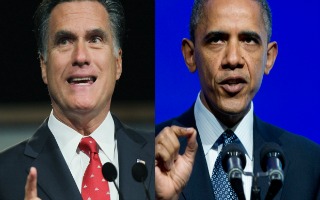 The bipartisan team at Purple State Strategies released a new poll of likely voters on Monday which showed the presidential race is a dead heat in the states of Virginia, Ohio, Florida and Colorado. That poll showed the national race neck-and-neck with President Barack Obama leading Republican candidate Mitt Romney by 2 points at 47 to 45 percent support (narrowly outside of the poll's 1.6 percent margin of error). But the results become far more mixed on the individual state level – where the race will ultimately be decided.

RELATED: Fox's Brit Hume Asks GOP Governors Why Obama Is Polling Ahead Of Romney In Their States
In Colorado, 51 percent of voters disapprove of the job President Obama is doing as president while 45 percent approve. Romney, meanwhile, has deeply underwater favorability ratings at 55/37. That could partially explain why Obama narrowly leads his Republican challenger with 45 to 44 percent support.
In Virginia, Obama leads Romney with 46 to 44 percent. There, 50 percent of voters disapprove of the job Obama has done in office with 45 percent approving. Romney is viewed slightly more favorably in Virginia where 41 percent of respondents view him favorably compared to 49 percent who do not.
In Ohio, Obama enjoys his biggest lead against Romney with 48 to 45 percent support. There, 46 percent of voters approve of his job performance to 49 percent who disapprove. Romney is viewed unfavorably by 50 percent of respondents compared to 37 percent who view him favorably.
Finally, Romney enjoys a slight lead over Obama in Florida where 48 percent support this bid for the presidency over Obama who claims 45 percent support. 54 percent of voters disapprove of Obama's job performance to 43 percent who approve. Voters in the Sunshine State view Romney somewhat favorably than unfavorably, with 47 percent to 46 percent of respondents saying they view Romney in a favorable light.
Reflecting an uptick in the intensity of the presidential race, roughly the same amount of voters said that they have heard something new about both candidates in the last several days. At both the state level and nationally, more voters said they see the economy getting worse than getting better by double-digit margins.
Across all four swing states, President Obama leads among women by 52 to 41 percent. Romney, meanwhile, has a narrow lead among men with 50 to 42 percent support. Romney leads among self-described independent voters nationally with 47 to 42 percent support against President Obama. Independents support Romney in each of the swing states except Ohio where independent voters back Obama over Romney by 47 to 40 percent.
600 likely voters were sampled for the state level polls while 2,412 were surveyed nationally. The survey was taken between July 9 and 13 and has a +/- 4.0 percent margin of error at the state level.
> >Follow Noah Rothman (@Noah_C_Rothman) on Twitter
Have a tip we should know? tips@mediaite.com