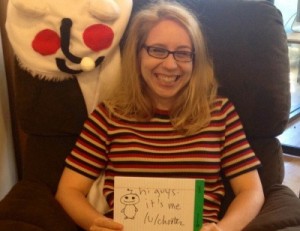 Yeah, so, Reddit has mostly gone dark. Not in the sense that anti-Internet freedom government entities have nefariously blocked all or most of the site — nothing like that. No, Reddit's current predicament is user-generated.
As BuzzFeed's Ryan Broderick reports, major subreddits were suddenly rendered private by their moderators on Thursday night. That's because Reddit fired Victoria Taylor, who's popularly known on the site as u/chooter. Taylor, who worked as Reddit's director of communications, helped the r/IAMA subreddit — which has conducted incredibly popular Q&A's with presidents and criminals alike.
As moderator "karmanaut" explains, "we learned that Victoria was unexpectedly let go from her position with Reddt. We all had the rug ripped out from under us and feel betrayed." No particular reason was given for Taylor's termination, and while such information is relevant only to Reddit's in-house staff, that it happened so abruptly and without any communicated warning to the r/IAMA mods is what pissed off karmanaut.
So they made r/IAMA private, rendering it unreadable to all but a few users. To make matters worse, several other popular subreddits followed suit.
Unsurprisingly, Redditors assumed Taylor's firing was another unpopular part of interim CEO Ellen Pao's plan, so they filed a Change.org petition calling for her resignation. As of this writing, it has 15,750 signatures of the required 25,000.
Meanwhile, Reddit co-founder Alexis Ohanian — another target of angry Redditors — hasn't done much to alleviate the situation. If anything, he's made it worse:
Reddit founder Alexis Ohanian last night in response to the drama surrounding r/IAmA: "Popcorn tastes good." pic.twitter.com/lBsbV0kNS0

— Ryan Broderick (@broderick) July 3, 2015
He tried to make up for his comments later, but to no avail:
"I made two dumb joke comments in SRD, which I admit were dumb," Ohanian wrote this morning about his popcorn post pic.twitter.com/PCORArlvKr

— Ryan Broderick (@broderick) July 3, 2015
Meanwhile, behind the scenes, Ohanian and the Reddit administration are trying to lay down the law with the r/IAMA mods:
Ohanian in apparently private post on r/modtalk: "Get the blacked out subreddits back online" https://t.co/BSLPjVutOm pic.twitter.com/HK3lO8muJh

— Ryan Broderick (@broderick) July 3, 2015
So yeah. Reddit has, for the most part, gone dark. Internet content writers like myself, as well as those of you who read it while wasting time at work, are supposedly struggling to find things to write about. (Honestly, we're doing just fine.) But if you really want a alternative time-suck to Reddit, you're not alone. "Reddit alternative" is trending on Google in a big way.
[h/t BuzzFeed]
[Image via Reddit]
— —
>> Follow Andrew Husband (@AndrewHusband) on Twitter
Have a tip we should know? tips@mediaite.com