Remember When Tillerson, Mattis and Mnuchin Reportedly Forged A 'Suicide Pact'?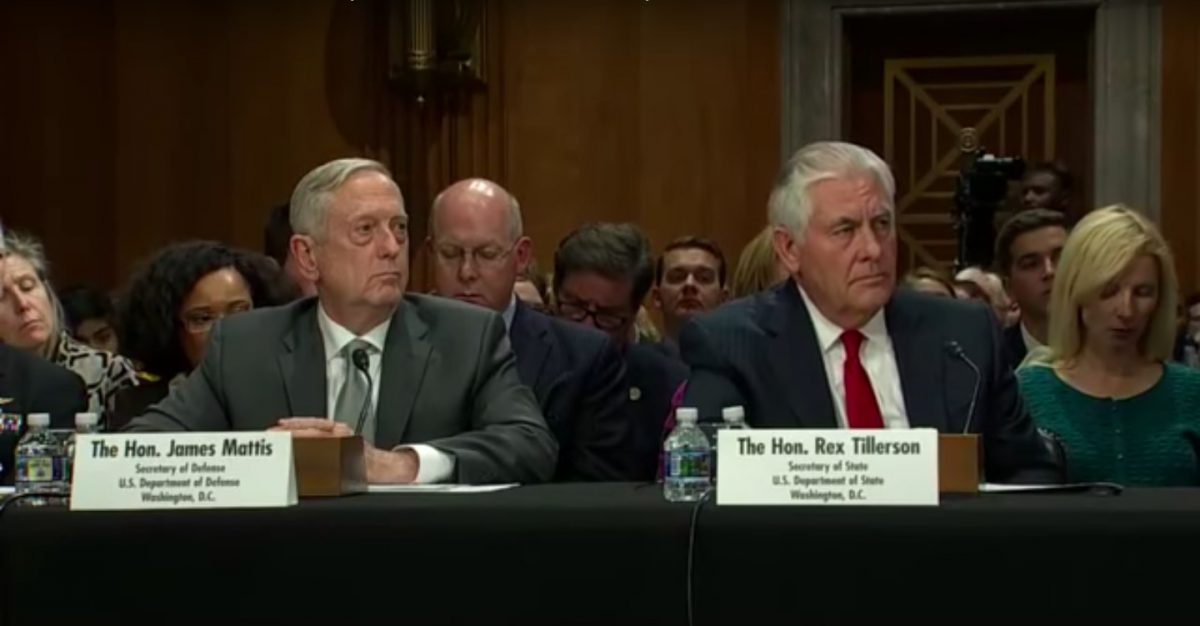 The reported "suicide pact" is now in play.
Back in October, when no one was really looking at the cast of characters who seemed most secure in their positions at the White House, now-former Secretary of State Rex Tillerson, Secretary of Defense Jim Mattis, and Secretary of the Treasury Steve Mnuchin reportedly entered into an agreement. The terms were simple: If President Donald Trump kicked one of them out the door, the other two would tender their resignations.
News of the so-called suicide pact was first reported by BuzzFeed News' John Hudson back in October, when tensions between Tillerson and President Donald Trump were already running high. The pact appears to have been formed to dissuade Trump from going after Tillerson, as one government official "expressed confidence in Tillerson's status" to Hudson due to this pact.
None of the three men have ever confirmed or denied the pact's existence. Fun fact, though: Mnuchin was a producer on the 2016 flick "Suicide Squad."
Meanwhile, a few reporters on Twitter have not forgotten about the rumored agreement:
Every reporter now needs to ask Mattis and Mnuchin if they were serious about their "suicide pact" with Tillerson.

If they are, holy crap. That would mean Trump loses 20% of his Cabinet in one day.

— Matthew Chapman (@fawfulfan) March 13, 2018
So. About the Mnuchin-Mattis-Tillerson suicide pact.

— Paul Musgrave (@profmusgrave) March 13, 2018
Remember all those people saying there was a "suicide pact" between Tillerson and Mattis, if one went the other did too?

Complete BS.

Thank God.

— ian bremmer (@ianbremmer) March 13, 2018
Remember that Tillerson was apparently in a job suicide pact with Mattis and Mnuchin.

— the glare (@TheGlare_TM) March 13, 2018
Status report on the Tillerson, Mattis, and Mnuchin suicide pact?

— Simon Hedlin (@simonhedlin) March 13, 2018
Have a tip we should know? tips@mediaite.com