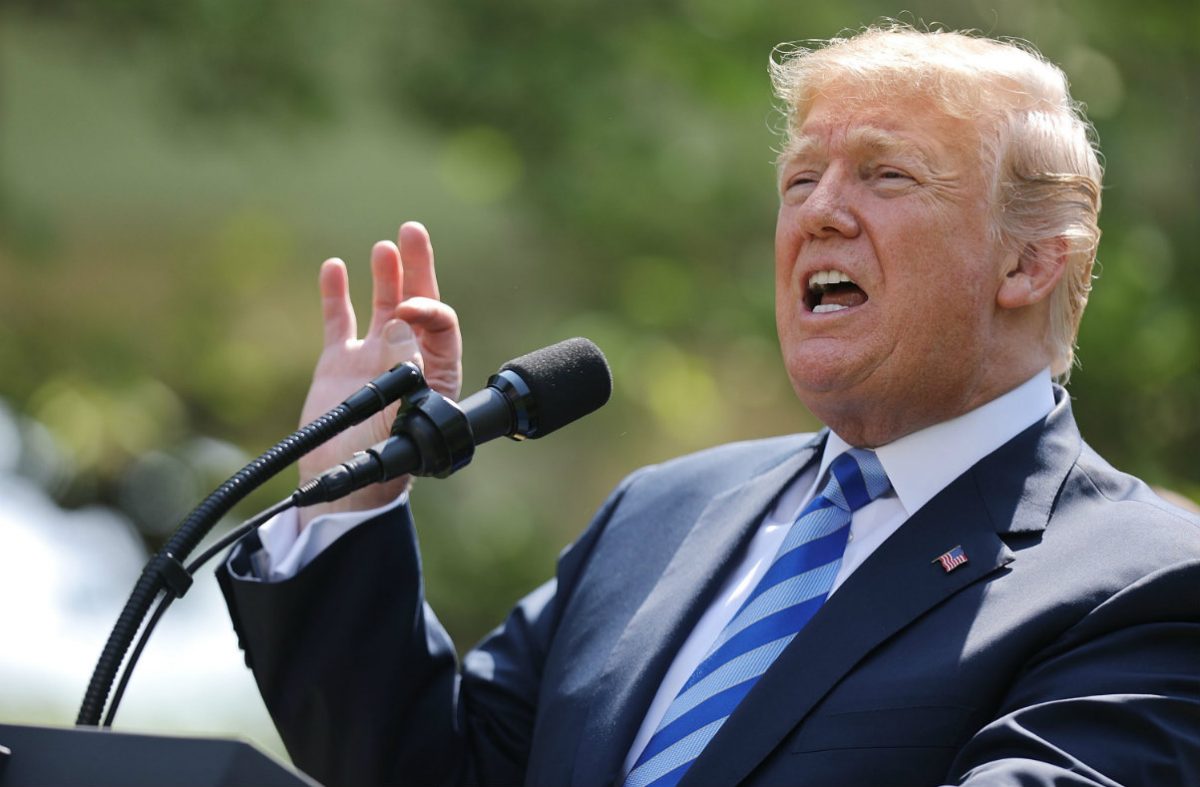 With a certain four-letter word in the news this week, we here at Mediaite — who pride ourselves on the just askin' question — are curious…Do you remember that time a woman reporter said President Donald Trump called her a cunt?
This week, talk show host and comedian Samantha Bee managed to victimize the powerful, rich, and influential Ivanka Trump by calling her a "feckless cunt" after she posted a photo with her child during a news cycle focused on migrant children being separated from their parents. This comment was met with fierce outrage from both Trump, who has called for Bee to be fired for her "horrible language," and the White House.
"The language used by Samantha Bee last night is vile and vicious," stated White House press secretary Sarah Sanders. "The collective silence by the left and its media allies is appalling. Her disgusting comments and show are not fit for broadcast, and executives at Time Warner and TBS must demonstrate that such explicit profanity about female members of this administration will not be condoned on its network."
But such "vile and vicious" — and even "horrible," my God, just "horrible" language! — is no stranger to the president, who allegedly called reporter Jennifer Lin  the c-word for her coverage of his business ventures.
"There was no hello. But there was yelling, lots of yelling," Lin said while describing the time Trump called after she wrote a piece about his 1988 real estate dealings in Atlantic City, New Jersey. "The word 'shit' was used repeatedly as a noun and adjective. I had shit for brains. I worked for a shitty newspaper. What sort of shit did I write."
Lin then claimed "Trump referred to me as 'that cunt,'" which, in her words, is "the worst word in the English language to refer to a woman."
In classic Trump-ian fashion, Lin noted that The Donald hadn't even read the article he was seething over and didn't take issue with any of her reporting. Instead, he just told her, "No one reads the story. I read the headline and I didn't like it."
Trump accuser Jessica Leeds, who claims the now-president groped her and tried to reach under her skirt in the 1980s — a telling action from the man known best for his "grab 'em by the pussy" comment —  also says Trump called her a "cunt."
"I knew, and I recognized him, immediately — he's the guy on the airplane," Leeds said to NBC's Megyn Kelly. "But he stands there, as I'm handing him this table assignment, and he says, 'I remember you. You were that woman from the airplane.' He called me the worst name ever."
Leeds went on to tell Kelly the word started with "c" and ends with "t — a term that she designated "the worst one."
"It was shocking," she added. "It was like a bucket of cold water being thrown over me."
On the other side of this week's outrage cycle, actor and racist Roseanne Barr — who the president praised in the past, but would not disavow when she lost her ABC show after calling Valarie Jarrett an ape — even used the c-word to describe Hillary Clinton.
"Anyone who thinks Hillary isn't a cunt is a pussy," wrote Barr in a since-deleted tweet dated to 2016.
This post will be updated if the White House and Trump condemns Barr or himself and calls for his own firing after his use of such a "vile," "vicious," and "horrible" word.
[image via Chip Somodevilla/Getty Images]
Follow the author on Twitter (@calebecarma).
Have a tip we should know? [email protected]