GOP Rep. King: Cut Off Rubio, Others Who Voted Against Sandy Bill And Have 'Balls' To Fundraise In NY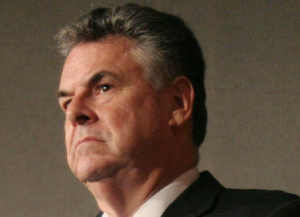 Rep. Peter King (R-NY) was blunt and outspoken when, last month, the House delayed the vote on the Hurricane Sandy relief bill. Calling out his own party, King later said they were left to go "around like third-world beggars." While the bill did eventually pass, King appears not to have forgotten about the ordeal… as he made clear today.
Specifically, he was not pleased to hear Sen. Marco Rubio (R-FL) — who is seen as a potential 2016 presidential candidate — is evidently courting Wall Street donors. According to a POLITICO report, the senator "has quietly met with some of the most powerful GOP backers in the world of high finance."
"Being from New York we're not supposed to be suckers," King told Politicker. "It's bad enough that these guys voted against it, that's inexcusable enough. But to have the balls to come in and say, 'We screwed you, now make us president?'"
Rubio and any others who "threw a knife in the back in New York" by voting "no" on the relief bill shouldn't "get one nickel from New York."
"They are more and more taking on this anti-Northeast attitude," Mr. King said of his party. "We say fine, if you want to be anti-Northeast, then the Northeast is going to be anti-them."
Previously, King made the media rounds expressing his frustration with the delayed vote. Lawmakers who "turned their back" on those in need shouldn't get "one penny," he said — later backtracking a bit and offering kind words about House Speaker John Boehner.
Also back in January, King again criticized members of Congress for putting them in the position of "third-word beggars."
(h/t Politicker)
Have a tip we should know? tips@mediaite.com