Report: CNN's Don Lemon Interview Shows He's Frustrated With Cable News, Is Super Hot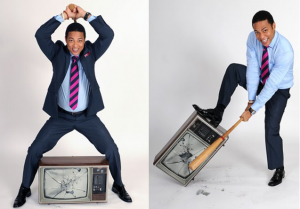 As his contract nears its end next year, CNN's Don Lemon has evidently been taking some time out to reflect on the state of cable news. And he's not exactly loving what he sees.
In an interview with the Atlanta edition of Creative Loafing that lovingly extols his physical attributes ("He has a full, masculine build and a commanding presence that puts one in mind of a politician. In person, his smooth, cream-in-coffee complexion looks as flawless at home as it does under layers of television makeup. His smile is striking. It is not an overstatement to say that his clear eyes literally glitter in the sunlight."), Lemon is honest about his feelings for the industry that butters his bread:
In general, when I watch cable news during the day, it's frustrating because it reminds me of a game show. If I want to watch The Price is Right, I'll watch The Price is Right. I'm not consciously thinking that when I'm on the air, but that's just my personality. To be like, "Are we really doing this?"

I think you can have fun on TV, but you should pick your moments. It should be natural. You shouldn't build in "Oh, this is our cutesy moment of the day!"
RELATED: CNN's Don Lemon: Marcus Bachmann 'Elbowed Me Into A Golf Cart'
Later on, Lemon muses on the cookie cutter roles laid out for certain anchors. "I think they want me to be the good-looking black guy," he shares. "That's what I think. I don't know."
But, the interview is quick to point out, Lemon is difficult to pigeonhole:
For what it's worth, that statement seems to ring true for Lemon. It's easy to assume that a gay black guy like Lemon is a diehard liberal, until the moment in his book when he gushes about Ronald Reagan or recalls his time involved with Young Republicans in college. He even has plenty of kind words to say about Bill O'Reilly. Maybe those things are something of a put-on; he certainly skews liberal at times. Ultimately, Lemon's not interested in giving anyone the answers they want to hear, "I'm not concerned with what people think of me," he says. "I mean, I'm a gay black guy. If I can't ask questions without caring what people think of me, who can?"
Read the full interview and let us know where you see Lemon a few years from now. Is he poising himself to be the next bold name evening pundit? Is he better suited to making headlines instead of merely reporting on them? And would you agree that his eyes literally glitter in the sunlight? Or is it kind of more of a slight shimmer?
h/t Creative Loafing Atlanta via TVNewser
Have a tip we should know? [email protected]