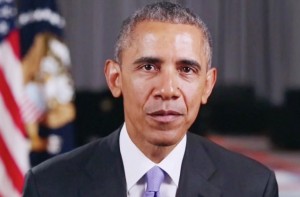 According to the upcoming report from the House Benghazi Committee, President Barack Obama skipped his personal daily intelligence briefing the day after the 2012 Benghazi attacks.
The revelation is buried in one of the appendices to the 800-page report released by the Republican-controlled committee Tuesday. According to the Executive Coordinator tasked with delivering the daily briefings, she first delivered the briefing to White House chief of staff Jack Lew. But instead of giving Obama a briefing, she gave the folder to a White House usher.
That day's briefing contained a sentence claiming "the presence of armed assailants from the outset suggests this was an intentional assault and not the escalation of a peaceful protest." In the following days, White House press secretary Jay Carney and U.N. ambassador Susan Rice claimed the attack was instead the result of a spontaneous protest of a YouTube video.
Previous reports indicate that skipping the briefing is not necessarily unusual for the president, and that he only attends roughly 40% of his intelligence briefings. The White House has responded to critics by saying that Obama does receive intelligence even when he skips the in-person briefings. "This president is absolutely responsible and voracious consumer of the presidential daily briefing and of the information provided to him by his national security team," Carney said in 2012.
Obama's activities during and after the attack have long been a matter of mystery, with the White House refusing to comment on the matter. During the 2012 presidential election, Obama was attacked by Republicans for flying to Las Vegas for a campaign fundraiser the day after the attack.
[Image via screengrab]
——
>>Follow Alex Griswold (@HashtagGriswold) on Twitter
Have a tip we should know? tips@mediaite.com