Report: Trump Crashed a Charity Event, and Donated Nothing, to Make Himself Seem More Generous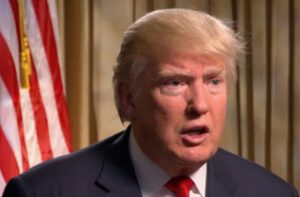 In 1996 Donald Trump reportedly pulled up a chair at a ribbon-cutting ceremony for a new nursery school for children with AIDS, alongside city luminaries and philanthropists who had been instrumental in its creation, even though Trump himself hadn't donated a cent.
This anecdote comes from the Washington Post's latest investigation by David Fahrenthold into how Trump's record of boasting about his charitable giving does not align with the reality.
Fahrenthold appeared on CNN's New Day Monday morning to break it down. "[Trump has] often made a lot of effort to make himself seem more charitable than he actually is," he said. "He clearly knows people expect him to be charitable, and he goes to a lot of effort to try to inflate his own charity, by promising donations he never gives and even in some cases by showing up at charity events where he gave no money and sort of standing there at the front of the room and taking the credit he doesn't deserve."
.@Fahrenthold: If you want to know whether Trump follows up on promises, important to know about charitable giving. https://t.co/KzNEFkMwS8

— New Day (@NewDay) October 31, 2016
In his article published online Saturday, Fahrenthold writes:
For as long as he has been rich and famous, Donald Trump has also wanted people to believe he is generous. He spent years constructing an image as a philanthropist by appearing at charity events and by making very public — even nationally televised — promises to give his own money away.

It was, in large part, a facade. A months-long investigation by The Washington Post has not been able to verify many of Trump's boasts about his philanthropy.

Instead, throughout his life in the spotlight, whether as a businessman, television star or presidential candidate, The Post found that Trump had sought credit for charity he had not given — or had claimed other people's giving as his own.
In September, the Trump campaign blasted Fahrenthold for his investigations into the Trump Foundation, accusing him of being a "biased reporter who is clearly intent on distracting attention away from the corrupt Clinton Foundation." The campaign alleged that his "reporting is peppered with inaccuracies and omissions," although it did not contest any specific facts.
Video via CNN
Have a tip we should know? tips@mediaite.com