Bloomberg's Mark Halperin Dismisses FBI Timing: 'Comey Shouldn't Have Done What He Did'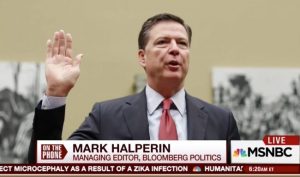 As the head-scratching and (perhaps?) fallout continues from Friday's shocking news out of the FBI, the overall impact on the 2016 race remains to be seen. In an unprecedented move that was confusingly reported amid muddled details, FBI Director James Comey informed lawmakers that the previously-closed investigation into the emails of former Secretary of State Hillary Clinton would be essentially "reopened," as a result of newly-discovered emails from an unrelated case.
We know know what that other case is and who it involves (Anthony Weiner); as for what's in those emails… well, we still have no idea. And for much of the weekend, it would appear as if Director Comey himself and the FBI didn't even know, after Yahoo News exclusively reported that the bureau lacked the warrant necessary to view them. It's a move that Democrats have slammed, calling on Comey on release more details given the bombshell nature of his timing.
On Morning Joe Monday, Bloomberg's Mark Halperin opined it was a move that the FBI Director should have effectively avoided altogether, especially considering the scant information that was known.
"This news was volatile," Halperin admitted, noting that Comey's initial ambiguous letter to lawmakers came just eleven days before the presidential election.
"I wouldn't say 'It's the worse case,' for Hillary Clinton, but Comey shouldn't have done what he did," Halperin continued. "Even if there'd been a grand jury and panel. I don't think he should've done what he did."
Watch above via MSNBC.
—
[image via screengrab]
Have a tip we should know? tips@mediaite.com