Report: Trump Today Will 'Likely' Admit — Himself — That Obama Was Born in the US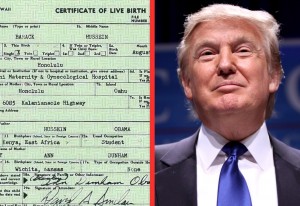 Yesterday marked an important day in the history of the so-called "birther" movement, with the Donald Trump campaign admitting that the Republican nominee himself believes that President Barack Obama was born in Hawaii, and not Kenya.
The campaign's senior communications advisor Jason Miller said yesterday, "Having successfully obtained President Obama's birth certificate when others could not, Mr. Trump believes that President Obama was born in the United States."
However, this isn't quite the same as the man himself saying it on his own volition.
But with the all-important first debate rapidly approaching (September 26 on Long Island), it's an issue that many think Trump would be smart to admit and move on from, lest he be dogged down by questions from Lester Holt about this years-old non-spiracy. And as CNN's Dana Bash reported moments ago, today may be the day that the man himself finally admits — not through a released statement — that he believes Obama is natural born.
"That is likely to happen today," said Bash on CNN's New Day. "Donald Trump has public events, early — actually he'll be here in DC. He also has other forums that we know of like Twitter. So we're gonna be watching all of that to see when and if this does happen."
Long before his fateful escalator trip last summer, the reality TV star and real estate magnate Trump was in pursuit of the conspiracy to prove that President Obama was not born in the United States. In 2011, Trump claims to have sent a team of investigators to Hawaii to perhaps uncover — in his words — "one of the greatest cons in the history of politics and beyond."
"I have people that have been studying it and they cannot believe what they're finding," he said at the time.
In a leaked personal email that was released earlier this week, former Secretary of State Colin Powell asserted definitively, "Yup, the whole birther movement was racist."
Bash continued this morning, "The birther issue is one that is separate from everything else, because it predates pretty much everybody who works for him."
Have a tip we should know? tips@mediaite.com