Report: Trump's Business Decisions and 'Array of Failing Enterprises' Almost Crippled Him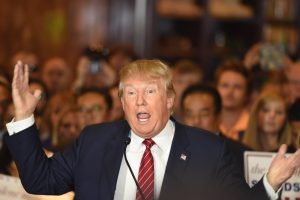 For a supposedly self-made billionaire, Donald Trump has relied heavily on others to save him from personal ruin brought about by his business decisions, according to a new report in the New York Times.
"[A] review of public records and interviews with those who were present makes clear that it was decisions Mr. Trump made at the helm of his business empire during the 1980s that led to its nearly imploding," Russ Buettner and Charles V. Bagli report.
His father, for one, has been instrumental in saving Trump from himself. Not only did the self-proclaimed "blue collar billionaire" get his start with a $1 million loan from Fred Trump (which the younger Trump has repeatedly characterized as a "small" amount). Years later, when he needed to pay off a $4.1 million property tax bill, he used fees from his dad's properties to pay off his debts.
The report chronicling Trump's "array of failing enterprises" in the 80s and early 90s makes clear Trump's habit of hemorrhaging money:
By 1990, Mr. Trump had amassed $3.4 billion in debt, much of it in the form of high-interest junk bonds. He was personally liable for $832.5 million of that. He had bought a yacht for $29 million, the Plaza Hotel in Manhattan for $407 million and a failing airline for $365 million. All were losing money.

[…] The Castle casino in Atlantic City recorded total losses of $93.2 million in 1990 and 1991. The Trump Regency hotel there lost $8.3 million in 1991. The Trump Plaza casino lost $29.2 million in 1991.

[…] His airline, Trump Shuttle, lost $34.5 million during just six months in 1990.
It got so bad that in 1990 his dad sent a lawyer to buy $3.3 million in chips at the Castle and didn't even cash them — just to provide the casino with a desperately needed influx of money.
In 1993, he was so hard up, Trump "dispatched a company executive to ask his siblings if he could borrow $10 million from their respective shares of the family trust," the Times writes. Next year, he came back and asked for an additional $20 million. (Trump claims he never borrowed money from his siblings.)
Even though his casinos were consistently failing, industry regulators stopped short of shutting him down only because they were afraid the consequences of doing so would be even worse.
The report follows another scoop from the Times published Saturday, revealing that Trump reported a $916 million loss in 1995.
[h/t NYT]
—
[image: a katz / Shutterstock.com]
Sam Reisman (@thericeman) is a staff editor at Mediaite.
Have a tip we should know? tips@mediaite.com