Report: Trump's International Business Interests Could Disrupt National Security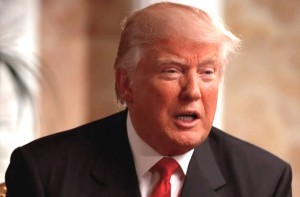 A sweeping investigation into the Trump Organization's foreign business interests reveals that, if elected, Trump's patchwork of international business dealings would critically compromise his ability to conduct foreign affairs and could disrupt U.S. national security.
Kurt Eichenwald's report, published Wednesday in Newsweek, finds that Trump's pronouncements about international affairs already reflect him putting his personal business interests above those of the country.
Describing one relationship in South Korea, Eichenwald reports:
Earlier this year, [Trump] said South Korea should plan to shoulder its own military defense rather than relying on the United States, including the development of nuclear weapons. (He later denied making that statement, which was video-recorded.) One of the primary South Korean companies involved in nuclear energy, a key component in weapons development, is Trump's partner—Daewoo Engineering and Construction. It would potentially get an economic windfall if the United States adopted policies advocated by Trump.
In another case, local government regulations impeded a Trump development in India. Although a local politician rebuffed a personal request from Donald Trump Jr. to get an exemption, Eichenwald notes, "It would be extremely difficult for a foreign politician to make that call if he were speaking to the son of the president of the United States."
The report also covers Trump's business entanglements in Turkey, one of America's most crucial allies in the fight against ISIS; Libya, where Trump courted and transacted business with late dictator Muammar el-Qaddafi; Azerbaijan; the UAE; Russia; and Ukraine.
"Never before has an American candidate for president had so many financial ties with American allies and enemies, and never before has a business posed such a threat to the United States. If Donald Trump wins this election and his company is not immediately shut down or forever severed from the Trump family, the foreign policy of the United States of America could well be for sale," Eichenwald concludes.
It is worth reading in full here.
—
Sam Reisman (@thericeman) is a staff editor at Mediaite.
Have a tip we should know? tips@mediaite.com