Report: U.S. Postal Service Will Be Forced To Shutdown This Winter Without A Bailout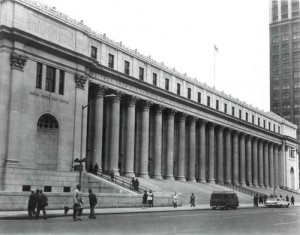 Unfazed by "Neither rain, nor snow, nor sleet, nor hail," it looks like all those emails we've been sending are starting to drag on the United States Postal Service. According to this New York Times report, the USPS is quickly approaching insolvency, and unless the House and Senate take drastic measures to help them out, will be forced to shutdown come winter. "Our situation is extremely serious," the postmaster general, Patrick R. Donahoe, told the Times. "If Congress doesn't act, we will default."
Struggling with falling revenues and rising costs of labor, the agency has incurred a $9.2 billion deficit, and in the next year, officials warn, they will run out of money to pay their remaining 574,000 employees and trucks, "forcing it to stop delivering the roughly three billion pieces of mail it handles weekly." Historically lauded as a cornerstone of democracy, as it is, the Postal Service is no longer self-sustaining.
Senate Homeland Security and Governmental Affairs Committee is set to hold a hearing regarding the USPS's financial predicament, but — politically and otherwise — the options are grim. Short of a bailout, the agency says they would need three things from Congress in order to stay in operation: approval of the elimination of Saturday delivery, to allow them to break union-bonds and layoff 120,000 workers, and let them close 3,700 locations.
Lawmakers from rural states fear that cutting out Saturday services, a move that will only save 2 percent of the agency's budget, will disproportionately effect people in small towns. Unions, meanwhile, say they are readying a fight against further layoffs. (USPS ranked third this year, behind pharmaceutical company Merck and Co. and the shuttered Borders, as employer with most layoffs.)
Most worryingly, it's unclear that a bailout will help solve the agency's long term issues:
"The post office's problems stem from one hard reality: it being squeezed on both revenue and costs. As any computer user knows, the Internet revolution has led to people and businesses sending far less conventional mail. At the same time, decades of contractual promises made to unionized workers, including no-layoff clauses, are increasing the post office's costs. Labor represents 80 percent of the agency's expenses, compared with 53 percent at United Parcel Service and 32 percent at FedEx, its two biggest private competitors. Postal workers also receive more generous health benefits than most other federal employees."
There is no turning back on emails, nor e-bills nor file-sharing sites. As a result of this irreversible change in the way we live, one of our nation's longest standing and most democratic institutions is in danger. Lost jobs and cut service are come as early symptoms of a much larger identity problem the Post Office faces.
Fred Wilson points out that, "We are undergoing a big time technological revolution that is disrupting big industries and big companies all over the place," and that "The US Postal Service story is not a unique situation. It is the situation." As technology encroaches on industry, our society will learn new skills and to create new jobs, at which point costly programs like the Postal Service might more easily be eliminated from the government payroll. As Wilson writes:
We are crossing a huge chasm from an industrial society to an information society. And there is immense pain in that transformation. Obama can't solve the problem nor can any of his opponents. Time will solve this problem.
(H/T Business Insider)
Have a tip we should know? tips@mediaite.com