REPORT: Woman Made False Claim That She Was Victim of Anti-Muslim Attack by Trump Supporters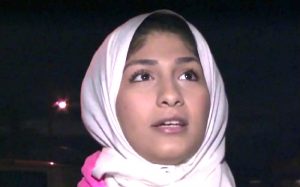 Earlier this month, 18-year-old Yasmin Seweid allegedly went missing following an alleged encounter on a New York subway train in which she was apparently verbally attacked by three Donald Trump supporters, only to resurface a few days later.
According to her account of the supposed incident, she was confronted by three drunk men on the train, who yelled "Donald Trump" while calling her a terrorist and telling her to go back to her country. She also stated that one of the men tried to pull he hijab off her head.
Well, according to DNAInfo, it appears that Seweid made the whole thing up:
But investigators who spent significant NYPD resources trying to verify her story were unable to find any witnesses to the incident or video that could corroborate her story, sources said.

Seweid finally recanted Tuesday, saying she misguidedly made up the tale to get attention because she was having issues with her family at home.

She was expected to be charged with filing a false report — which could range from a misdemeanor to a felony charges — late Wednesday afternoon, sources said.
It was also noted by DNAInfo that the police felt compelled to charge her with filing a false report because of the amount of time that was spent investigating the case and the amount of notice it got in the news due to the politics surrounding the case.
Watch video of the original report on the attack, via CBS New York.
[image via screengrab]
–
Follow Justin Baragona on Twitter: @justinbaragona
Have a tip we should know? tips@mediaite.com