Reporter Corners Trey Gowdy: Are the 'Clinton Lied, People Died' Bumper Stickers True?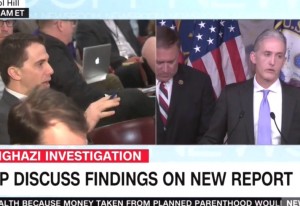 Hot on the heels of the Republican effort to release its own Select Committee Report on the events in Benghazi, Chairman Trey Gowdy (R.- SC) and his committee members addressed the media about the 800-page findings.
Although Chairman Gowdy and his fellow GOP members have repeatedly noted that this purpose of their investigation was not about the former Secretary of State Hillary Clinton (Gowdy told MSNBC this morning, "We mention… Clinton's name less times than the Democrats do" in their report), a reporter pressed the Chairman about a popular takeaway from the Benghazi events.
"There are bumper stickers and tee-shirts all over this country that say 'Hillary Clinton lied, people died'… is this true?" asked the reporter.
"You don't see that tee-shirt on me, and you don't see that bumper sticker on any of my vehicles," responded Gowdy succinctly. "And you've never heard me comment on that."
As he had done throughout the press conference, Gowdy repeatedly urged not only the gathered members of the press but also the American public to read the 800-page report for themselves. "I'm not gonna tell you what to be on the look out for. I'm gonna tell you there's new information."
The panel found no new wrongdoing on the part of the former Secretary of State, who is the presumed nominee for the Democratic party in the 2016 Presidential race, though it slams the inadequate resources leading up to the 2012 attacks that left four Americans dead in Libya. This morning on CNN's New Day, committee member Jim Jordan (R. – Ohio) said, "The overall report, it's about the facts, what happened… [but we] thought it was important to ask the questions. Why were we still in Benghazi when almost every other country had left? Why did we stay in Benghazi when the security situation was so terrible, so dangerous? And why did the administration mislead us?"
Watch the above exchange from CNN's coverage of the presser.
—
J.D. Durkin (@jiveDurkey) is an editorial producer and columnist at Mediaite.
[image via screengrab]
Have a tip we should know? tips@mediaite.com