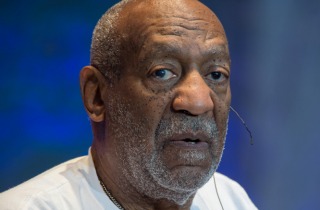 Bill Cosby has long been considered "America's Dad," but the multiple rape accusations against him have tarnished that image. And now one reporter who interview Cosby years ago has come forth to say she found him intimidating and creepy. In fact, the headline of her Raw Story piece is "Bill Cosby didn't rape me but what he did has always given me the creeps."
Dana Kennedy, at the time, was a reporter for the Associated Press. (Cosby's most recent interview with that news outlet ended on an uncomfortable note.) She interviewed him in early 1992, as The Cosby Show was barreling through its final season on NBC.
And how did the interview go? Well, as Kennedy puts it, he was "intimidating and menacing" and the mood was incredibly tense (the latter she actually mentioned in her article about the interview). At one point, Cosby said, "Tell me what you want to ask and we'll see how it goes. If it doesn't go well, I'll give you a piece of fruit. I'll give you an apple or pear and you can be on your way."
She writes that Cosby came off as "very scary," but then something happened that really creeped her out:
Less than a week after the story was published, I received a package at AP's world headquarters, which was then at 50 Rockefeller Plaza. This was years before 9-11 so of course I opened it without trepidation.

Inside was a sheet of paper with three typed words: "Here's your apple." The signature in black ink read "Bill Cosby." And wrapped in a paper towel was indeed an apple, dried and withered.
You can read the full piece here.
[image via Randy Miramontez/Shutterstock]
— —
Follow Josh Feldman on Twitter: @feldmaniac
Have a tip we should know? tips@mediaite.com
Josh Feldman - Senior Editor