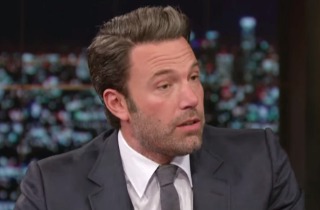 In the weeks since Bill Maher and Ben Affleck fought over Islam, we've heard a lot from Maher on the subject. But now we're hearing Affleck's likely first comments about the spat since his Real Time appearance.
In case you're one of the scant few who still hasn't heard, the Hollywood actor got in an intense fight with Maher over Islamic violence. Maher said Islam is "the only religion that acts like the mafia, that will fucking kill you if you say the wrong thing, draw the wrong picture or write the wrong book."
Affleck told Maher and guest Sam Harris that they were unfairly demonizing Islam in what he said was a very racist way.
So before the Save the Children Illumination Gala last night, Affleck took a moment to publicly comment on that fight and what was going through his mind during it. "I was ultimately making a Sesame Street argument," he said. "You don't judge a whole group of people based on the actions of a few."
And he went on to talk about his personal outspokenness on politics in general:
"I think I'd rather tell the truth and say what I believe in and make people unhappy than sort of pretend to think something else to accommodate them and try to be liked. That's just the way it goes and I don't think I'm any great champion of anything, but if they're going to put me on a show, I'm going to say what I think."
You can watch the video of the now-infamous debate here, via HBO:
[image via screengrab]
— —
Follow Josh Feldman on Twitter: @feldmaniac
Have a tip we should know? tips@mediaite.com
Josh Feldman - Senior Editor