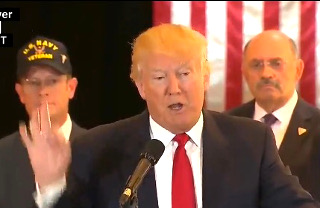 While holding a presser in Trump Tower Tuesday morning to tout his donations to various veterans organizations, Donald Trump locked horns with reporters who pushed back against his habit of demeaning the press.
"You keep calling us the dishonest press, the disgusting press—" CNN's Jim Acosta said.
"Which, generally speaking, that's a hundred percent true. Go ahead," Trump interjected.
"I disagree with that, sir. And if I can ask you this question. It seems as though you're resistant to scrutiny, the kind of scrutiny that comes with running for president of the United States."
Trump interrupted: "Excuse me, excuse me. I've watched you on television and you're a real beauty."
He accused reporters of "dishonest reporting," printing things he said in jest as serious statements, failing to cover the size of his crowds, and devoting occasionally unfavorable scrutiny toward his charitable endeavors.
"I'm not looking for credit. But what I don't want is when I raise millions of dollars have people say, like this sleazy guy right over here from ABC," he said, pointing to a reporter. "He's a sleaze in my book. You're a sleaze because you know the facts and you know the facts well."
Later, as the conference was wrapping up, David Martosko asked if press briefings were going to be this contentious if Trump became president.
"Yeah, it is gonna be like this, David," Trump said. If reporters continued to print "probably libelous stories," he said, "I'm gonna continue to attack the press. Look, I find the press to be extremely dishonest. I find the political press to be unbelievably dishonest."
[image via screengrab]
Have a tip we should know? tips@mediaite.com