Reports Of Nancy Pelosi Seeking Branding Help From Steven Spielberg Appear False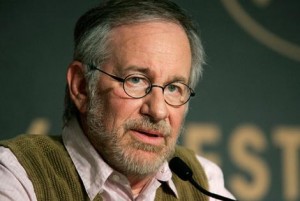 The Washington Post reported yesterday that House Speaker Nancy Pelosi (D-CA) had "turned to" film director Steven Spielberg for advice in how to "rebrand" the House Democrats in the coming year. The story was picked up by a litany of websites including The Drudge Report and Gawker, but according to Mediaite's sister site Gossip Cop, the report is inaccurate.
Writing for the Washington Post, staff writers Philip Rucker and Paul Kane wrote a lenghty and informative piece about Pelosi's transition to the House Minority leader after serving four years as House Speaker. Within that post was buried the following nugget:
Now, in public, Pelosi is projecting a no-looking-back aura. And behind closed doors, she is laboring to refashion the image of House Democrats – as well as herself.

Lawmakers say she is consulting marketing experts about building a stronger brand. The most prominent of her new whisperers is Steven Spielberg, the Hollywood director whose films have been works of branding genius. Lawmakers said Spielberg has not reported toPelosi with a recommendation.
Nancy Pelosi has taken a public flogging in the last few years from right-of-center opinion media personalities, and given the public opinion polls of the House of Representatives, it is completely reasonable to conclude that the House Dems would be eager to change their public image. And the notion that Pelosi is asking for help from Spielberg reinforces the convenient narrative that soon-to-be-former House leader is in bed with the lefty cultural elite based in Hollywood. Except there's on a fairly big problem with this story: according to Spielberg's spokesman Marvin Levy, this report seems to be completely off-base.
Gossip Cop reports:
Spielberg, a longtime Democratic supporter, worked on the 2008 Democratic National Convention and recently helped raise funds for President Obama.

"News that he is advising the leading Democrat in the House on building a strong party brand would seem to be a different – and more expansive – role than Spielberg has played in the past," notes the Washington Post.

And Spielberg knows all about roles.

However, he is NOT helping the Dems "rebrand."

The director's spokesman, Marvin Levy, tells Gossip Cop, "Steven has made it his career to direct actors, not political figures."
As is typically the case in these sorts of stories, the follow-up correction won't get near as big a splash as the original report, regardless of its veracity. And while Spielberg's spokesman has made clear that he is not helping the Democrats "rebrand" themselves in any official capacity, its entirely plausible that there could exist a casual and helpful relationship between Spielberg and House leadership. But for now, the official word is that no one should expect the House Democrats to suddenly morph into a summer blockbuster in the coming years.
Have a tip we should know? [email protected]