Republicans React To Obama's Hot Mic Incident: What Else Is The President Not Telling Us?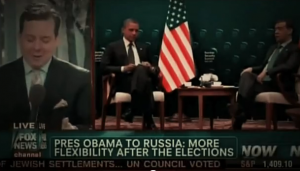 President Obama was caught on hot mic speaking to Russian President Dmitry Medvedev on Monday — telling him he'll have more "flexibility" after his election for missile defense issues and the like. Following the unintentionally public remarks, GOP hopeful Mitt Romney called the incident "alarming and troubling." And the RNC was quick to put out a video, speculating what else Obama isn't telling us.
RELATED: Caught On Hot Mic: President Obama Tells Russian PM He Needs 'Space,' Will Have 'Flexibility After My Election'
In a written statement, Romney said:
"President Obama had a revealing and unguarded moment when he was caught on tape telling Russia's president, 'This is my last election. After my election, I have more flexibility.' President Obama signaled that he's going to cave to Russia on missile defense, but the American people have a right to know where else he plans to be 'flexible' in a second term. Higher taxes, more spending and increased debt are all on the table as long as Barack Obama is in the White House, despite what he says publicly. President Obama needs to level with the American public about his real agenda."
As TPM notes, Romney was also reported telling his supporters the comments were "alarming and troubling" at a rally on Monday.
In the same vein, the RNC released a video, ominously titled "After the Election." Playing the widely circulated clip, the video asks, "What else is on Obama's agenda after the election that he isn't telling you?" (If you have any guesses, you're invited to tweet them with the hashtag #ObamaAgenda.)
Take a look at the RNC video:

Have a tip we should know? tips@mediaite.com