Rick Santorum Tells Mediaite He Blames Media For Taking Palin Comments Out Of Context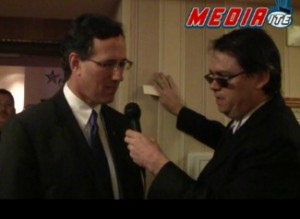 Rick Santorum got a little attention by some comments he made explaining reasons why Sarah Palin skipped the CPAC event currently going on in Washington D.C. Mr. Santorum kindly provided some time to Mediaite's Tommy Christopher who is currently covering CPAC, and the former Pennsylvanian Senator was rather defiant in explaining his original comments, blaming the media for taking his words out of context.

First some background. In an interview earlier this week with conservative pundit SE Cupp, former Senator (and possible presidential hopeful/wishful) Santorum ticked off several reasons why he thought Palin is skipped CPAC, chiefly citing "financial benefit," but also that she's "the mother to all these kids." In reporting the story, Christopher defended Palin, writing "Santorum's remarks are not only unfair and offensive, they're also completely unfounded." This lead to a rhetorical back and forth between he and Palin. In an exclusive interview with Mediaite, when asked about the kerfuffle, Santorum chided the media (Mediaite) in how it was reported:
There was a controversy created by a media story that had no basis in reality. They took some comments…and not only did they take them out of context, they then implied things that I didn't say and then wrote a headline on the implications. Its about as poor a journalistic effort as I've ever seen. There's no problem between me and Sarah Palin. She understands what the mainstream media is doing and I understand it too, so let's move on.
There is a lot to break down in this brief clip. First of all, its pretty clear that Santorum is unaware that he is speaking to on of the journalists who he claims to have wronged him so. Christopher's opinion piece entitled "Rick Santorum Says Sarah Palin Skipping CPAC For The Money or Because She's a Mom or Something" that started the kerfuffle between the former Governor of Alaska and Santorum (which lead to Palin to infer that Santorum was a knuckle-dragging neanderthal.)
When pressed by Christopher why Santorum reasoned that Palin turned down the CPAC keynote speaker spot because she "wasn't the mother to all these kids," Santorum defending himself by saying that he only spoke about Palin's home in Alaska as a reason for not coming to CPAC. That may have very well been what he meant, but he did mention "mother to all these kids" in his comment, so the original report was entirely fair.
Watch the exclusive interview with the oddly bespectacled Christopher at CPAC:
Have a tip we should know? tips@mediaite.com