Right-Wing Site 'Reports' That Michelle Obama's Dress 'Slips Off' at State Dinner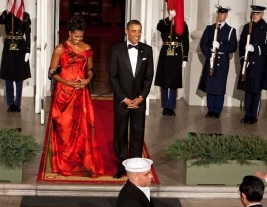 After a week of whoppers that would choke the Hamburglar, culminating in a starring role in Keith Olbermann's Special Comment, Gateway Pundit's Jim Hoft tried to lighten things up by "reporting" that "Michelle Obama's Dress Slips Off at Commie Red China Obama State Dinner."
The slight blog post turns out to be a snarky fashion critique (a hallmark of the right-o-sphere, didn't you know?), but the lascivious headline and targeting of the First Lady illustrate the right's hypocrisy on the "family value" of keeping families off-limits. (h/t Oliver Willis)

Such a creepy, lewd critique of Sarah Palin would never be tolerated, nor would attacks on members of her family. The big difference, of course, is that when such attacks have occurred, there have been liberals willing to call them out. Perhaps Palin is a bad example, though, because she has waged her own campaign against President Obama's wife.
To his credit, possible Palin rival Mike Huckabee did take issue with one such attack, but on logical grounds, not the demands of decency that families be left off limits. I haven't heard much from the right on that count where Michelle Obama is concerned.
Hoft has yet to see a single negative consequence for his campaign of lies against the Tucson memorial, and he won't likely see any from this, either. It would be easy to chalk all of this up as the rantings of a marginal figure, but Hoft's Big Journalism bio belies that temptation: (try not to spit your drink when they get to "his passion is truth.")
Jim Hoft is the proprietor of Gateway Pundit blog from Heart of America–St. Louis, Missouri. GatewayPundit has become a major resource for right-of-center news. The site is currently ranked 10 in the Wikio listing of top American political blogs and is the second most visited news website in St. Louis, Missouri. The site is listed as one of the top 50 collective news resources at Memeorandum and was listed as one of the top 100 blogs in a Carnegie Mellon University study. His work is mentioned on Hannity and Rush Limbaugh, in The Wall Street Journal, Washington Times, Investor's Business Daily and several conservative websites. Jim Hoft also follows freedom movements from inside Iran to the streets of Azerbaijan. His passion is truth. His devotion is to liberty.
In a nutshell, Jim Hoft is what passes for a credible news source on the right, rather than something that probably should remain in said shell.
Have a tip we should know? tips@mediaite.com