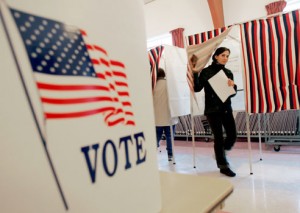 Following a Florida investigation into possible fraud in voter registration forms, the Republican National Committee cut ties with the consulting firm hired for voter outreach in seven battleground states, according to the Los Angeles Times.
The RNC has sent more than $3.1 million to the firm, Strategic Allied Consulting, this year. The firm's founder, Nathan Sproul, "has operated other firms that have been accused in past elections of improprieties designed to help Republican candidates, including dumping registration forms filled out by Democrats, but none of those allegations led to any criminal charges."
RNC spokesman Sean Spicer noted the party's "zero tolerance" for voter fraud. Via the LA Times:
Sean Spicer, spokesman for the RNC, said the party, has "zero tolerance" for voter fraud and cut ties to the firm on Wednesday, urging state parties to do the same. The forms in question in Florida were all submitted by one worker and were not the result of an effort to suppress votes, he said.
"If you don't do it right, it doesn't assist us in any way," he said."When the allegations yesterday were brought to our attention, we severed our relationship. We acted swiftly and boldly."
Sproul said the company's quality control assured their ability to track down the person who created the problem:
Sproul said his company has a vigorous quality control system that includes running criminal background checks on all employees, requiring viewing instructional videos on registration laws (an example of which can be seen here) and cataloging voter cards with serial numbers that identify who collected each registration. That quality check, Sproul said, enabled the company to quickly determine the individual who submitted the problematic cards in Palm Beach County.
Among some of the issues discovered in Florida were registration forms with incorrect addresses and birthdays, as well as forms that switched addresses and party registrations. The Republican Party has particularly focused on the issue of voter fraud this election cycle, drawing opponents' criticism of their emphasis on voter identification laws.
(H/T LAT)
Have a tip we should know? [email protected]