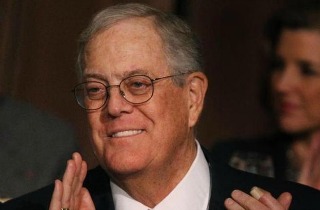 The Koch Brothers, long the go-to enemy for Democrats incensed over the role of money in politics, have a new foe: the Republican National Committee.
The RNC and the libertarian-leaning financiers struck a deal to share voting data in the 2014 elections. The partnership gave the Kochs access to a wide swath of data and did a lot to digitize the GOP's operation, which had lagged behind Barack Obama's high-tech mobilization efforts.
But the deal wasn't renewed after the midterms, and the RNC is now watching the Koch Brothers' database gain in popularity among GOP candidates — leaving the party apparatus out of the loop.
"I think it's very dangerous and wrong to allow a group of very strong, well-financed individuals who have no accountability to anyone to have control over who gets access to the data when, why and how," an RNC spokesperson told Yahoo! Politic's Jon Ward.
The Kochs' operation argues it is better equipped to make use of voter lists and donor infos than is the RNC, especially as the latter has struggled to close the tech gap. But the party committee points out that the Kochs, though primarily supportive of Republican candidates and conservative causes, are not synonymous with the Republican Party, and could as easily restrain access to the pivotal data as they could grant it.
Rumors that a faint cackling could be heard emanating from the Minority Leader's office went unconfirmed at press time.
[h/t Yahoo! Politics]
[Image via screengrab]
——
>> Follow Evan McMurry (@evanmcmurry) on Twitter
Have a tip we should know? tips@mediaite.com