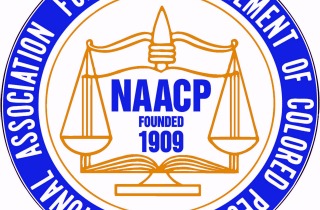 This week's midterm elections marked two historic moments: the election of the first black female Republican in Congress (Mia Love), and the election of the first black senator in the South since Reconstruction (Republican Tim Scott).
The NAACP put out a statement today on the elections that largely focused on voting rights, irregularities in certain states, and calling on Congress to pass new legislation on the matter. In fact, voting rights was such a big part of the NAACP's Election Day focus that they ran with the hashtag #VoteWatch to encourage people to report any voting irregularities.
The conservative website Townhall noticed something missing from that statement: any mention of Love or Scott.
This, in turn, set off RNC Deputy Press Secretary Raffi Williams, who took to Twitter to lambaste the NAACP for only supporting black legislators on one side of the political aisle:
can we take a moment to understand how the @NAACP didnt congratulate the first black person ever elected to both the House and Senate?

— Raffi Williams (@Raffiwilliams) November 6, 2014
.@NAACP is failing the black community by only supporting Dems

— Raffi Williams (@Raffiwilliams) November 6, 2014
it is unacceptable for an org that supposedly supports all blacks @NAACP to only acknowledge Dem blacks

— Raffi Williams (@Raffiwilliams) November 6, 2014
.@NAACP used to do great work for the black community. note USED

— Raffi Williams (@Raffiwilliams) November 6, 2014
If the @NAACP was a truly bipartisan org thay would support all blacks not just dem Blacks

— Raffi Williams (@Raffiwilliams) November 6, 2014
I wish an org like the @NAACP would support black ppl of ideologies. unfortunately they are proving how out of date they are

— Raffi Williams (@Raffiwilliams) November 6, 2014
.@NAACP should support all black ppl who are working to affect positive change in their communities. But they dont

— Raffi Williams (@Raffiwilliams) November 6, 2014
the fact that black ppl can win elected office should be celebrated by the @NAACP as a sign of how far our country has come. But @NAACP 1/2

— Raffi Williams (@Raffiwilliams) November 6, 2014
…wont celebrate black republicans cc:@NAACP 2/2

— Raffi Williams (@Raffiwilliams) November 6, 2014
[h/t The Blaze]
[image via NAACP]
— —
Follow Josh Feldman on Twitter: @feldmaniac
Have a tip we should know? tips@mediaite.com
Josh Feldman - Senior Editor