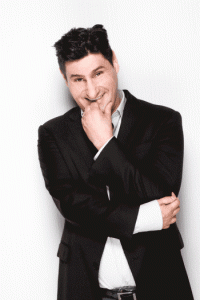 What does it take to make a successful transition from the page (or computer screen) to television? Alcohol, of course! Rob Shuter is bringing his popular column on AOL's PopEater to HDNet with Naughty But Nice with Rob Shuter a show which the network promises will soon become "everyone's guilty pleasure." The show is set to premiere Saturday, November 6th at 1pm.
Where does the alcohol come in? The show will be taped inside the restaurant Rare inside New York's Fashion 26 Hotel and will feature celebrity gossip as well as said celebs enjoying fancy cocktails. Clearly this is the MTV reality show method of entertainment: if you want to get good footage, get the focal points of your show drunk and keep the cameras running.
From the press release:
"Before joining AOL's PopEater to pen his "Naughty But Nice" column – which has over 10 million unique hits a month – Rob Shuter was executive editor of OK! Magazine, which quickly became the country's fastest growing weekly magazine during his tenure. With Rob's help, the magazine sold its first-ever million selling issue breaking such exclusives as Jamie Lynn Spears' pregnancy, Britney's first post-meltdown interviews, Eva Longoria's wedding and worldwide exclusives of Jessica Alba, Tori Spelling and Matthew McConaughey's gorgeous tots. Additionally, Rob has represented some of America's biggest stars — including Alicia Keys, Sean Combs and Jon Bon Jovi. Before being hired by Jessica Simpson, someone told Rob that the decision to hire him would be entirely up to Simpson's Maltese, Daisy. He walked into that meeting with a pocketful of salami and got the job!"
So for everyone who likes their dirt served up with a classy drink, this might be the show for you.
Have a tip we should know? tips@mediaite.com