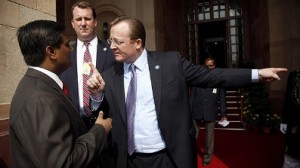 Some days, it might not seem like it, but White House Press Secretary Robert Gibbs has proven, once again, that he has the White House press corps' backs. When Indian security officials tried to restrict press access to an event yesterday, Gibbs not only threatened to pull President Obama from the event, he even offered to let them break his foot!
This isn't the first time Gibbs has had to swoop in and intercede like this, either. While he's getting major props from White House reporters, Gibbs was characteristically humble in comments to Mediaite.
The event in question was an extended bilateral meeting with Indian Prime Minister Singh, and when Indian officials tried to cut the number of White House pool reporters at the event from 8 down to 5, according to the pool report, "Katie Lillie and other U.S. officials lobbied hard for the eight, but no luck until Gibbbs announced loudly and persistantly on steps of Hyderabad House that he would pull POTUS of(f) bilat with PM Singh unless 'the White House 8,' as we've come to be known, were all allowed in."
West Wing Report's Paul Brandus reported on the incident early this morning via his indispensable Twitter feed:
At one point Gibbs, w/his foot literally in the door, threatened to yank #Obama from the event if reporters weren't allowed in. 3:07am

Indian security tried to shut the door on Gibbs, who refused to budge and asked the Indians if they wanted to break his foot. They gave in 3:09am
After all that, of course, it turns out Gibbs risked his foot for a 60-second photo op, during which neither world leader uttered a syllable.
I asked Gibbs if he had any comment about the incident, and how his foot was feeling. His response: (via email)
We had an agreement to get a certain number of people in to the meeting. We simply stood up for that which is our job.

Thankfully they didn't take me up on closing the door and breaking my foot.
Of course, this isn't the first time Gibbs has gone all "Road House" on a foreign trip  to make sure the White House press corps got access. Here's a clip of Gibbs making just such an intercession last December in Copenhagen, threatening to pull the President from an event if US reporters weren't allowed in.
Have a tip we should know? tips@mediaite.com