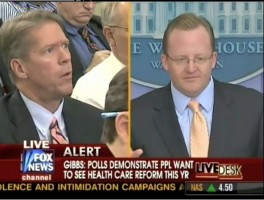 The drama surrounding executive pay czar Kenneth Feinberg's Thursday round-robin interviews with the press pool just keeps going and going. Mediaite reported Saturday that Fox News claimed the White House had apologized for a "mistake by a low level person at the Treasury Department," a claim which the White House now refutes.
Fox News initially reported that "the Obama administration" had tried to exclude them from interviewing Feinberg as part of a White House campaign to de-legitimize the news network. Since then, details have continued to emerge about this story.
I asked Press Secretary Robert Gibbs if anyone from the White House had apologized to anyone at Fox News. His response:
"Have you asked Major if he got an apology? No one apologized to anyone."
I asked Gibbs if he had any comment on the rest of Fox News Senior Vice President Michael Clemente's claims. He refused to address this until we had spoken to Major Garrett.
We asked Fox News for access to Garrett, who chose instead to answer questions through Michael Clemente, Senior Vice President of News who told Mediaite 'This is nothing more than semantics — the bottom line is that the White House acknowledged a mistake had been made, period.'"
Clemente also told Huffington Post that Fox News did initially request an interview with Feinberg, which contradicts a statement given to Mediaite by the Treasury Department on Friday. Mediaite has made several attempts to verify this with Treasury, and are awaiting their response.
So here's what we now know: Robert Gibbs claims there was no apology made by the White House to Fox News. When asked if they admitted a mistake to Major Garrett — as Fox News has claimed — Gibbs declined comment until we interviewed Major Garrett, to whom Fox News will not provide us access. This leaves us to presume that the White House said something to FNC, and we are left to simply debate the semantic difference between "admitting a mistake" and "apologizing."
Have a tip we should know? tips@mediaite.com