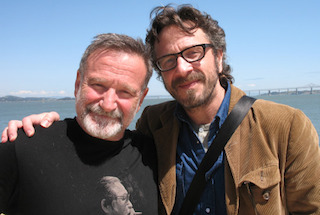 In 2010, Robin Williams was a few years out of his last prolonged stint in rehab for substance abuse and just coming off heart surgery to replace an aortic valve. He decided to invite comedian Marc Maron, host of the still relatively new WTF podcast, to his home in California, where he opened up about his struggles for nearly an hour in a way he had never really done before.
Following Williams' suicide yesterday, Maron decided to re-release the episode on his website, with a new, emotional introduction, in which he shares what Williams' comedy meant to him and how difficult the news of his death has been to take.
But it is a moment towards the end of the original interview that resonates so intensely today and it comes after Maron tells Williams that he doesn't seem like someone who is "morbidly fascinated" or "hung up on death."
"No," Williams agreed, saying there was only one time when he was still drinking that he contemplated suicide. What followed was one of Williams classic improvisational riffs, but this time the characters were him and his own conscience:
"Did you really just say fuck life? You know, you have a pretty good life as it is right now, have you noticed the two houses?"

"Yes."

"Have you noticed the girlfriend?"

"Yes."

"Have you noticed that things are pretty good even though you may not be working right now?"

"Yes."

"OK, let's put the suicide over here on 'discussible.' Let's leave that over here in the discussion area, we'll talk about that. First of all, you don't have the balls to do it… Have you thought about buying a gun?"

"No."

"What were you going to do, cut your wrists with a water pick?"

"Maybe."
It went on like that for another couple of minutes, with the scenarios growing more and more absurd before the whole thing devolved into a comedic golf commentary.
"Discussions of death, it's very freeing," Williams said after he had finally broken character and returned to his host.
The whole thing was framed just like any of his other reference-heavy stand-up bits, but it obviously contained some truth about the way he was feeling at one point about the idea of taking his own life. Sadly, Williams' willingness to entertain the idea of suicide grew rather than diminished in the intervening years.
Listen to audio below, via WTF Podcast:
And if you haven't heard it, the full interview is worth a listen at wtfpod.com.
[Photo via Marc Maron]
— —
>> Follow Matt Wilstein (@TheMattWilstein) on Twitter
Have a tip we should know? tips@mediaite.com