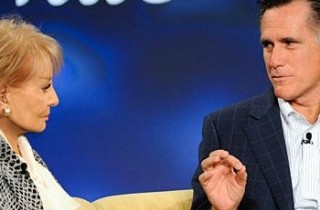 Third time's a charm?
GOP presidential candidate Mitt Romney reportedy told The View host Elisabeth Hasselbeck Wednesday that he will appear on the program, which he described in a newly leaked video as "high risk" and full of "sharp-tongued" hosts (with the exception of lone Republican Hasselbeck). According to The Wrap, Hasselback broke the news on air while she and the other hosts discussed the videotaped remarks, which Mother Jones posted online at the beginning of the week.
Hasselbeck read Romney's statement during the broadcast, adding that he said he "had a wonderful visit" during his previous View appearances and looked forward to joining "the sharp-tongued chatter in October."
The women at The View will undoubtedly probe Romney on the clip, which was filmed in May during a private donor meeting and has ruffled many feathers since being brought to the public's attention Monday. In the footage, Romney is quoted as saying a laundry list of potentially offensive things, the most heavily-discussed of which is perhaps his claim that 47 percent of U.S. residents are "dependent upon government" and going to stand with the current president no matter what, therefore not worth trying to win over.
He also mentions political commentator Hilary Rosen's infamous assertion that Ann "has never worked a day in her life" and adds that the whole fracas actually helped give his wife a platform as well as a bigger media presence. He had this to say of The View:
"The View is fine, although The View is high-risk, because of the five women on it, only one [Hasselbeck] is conservative and four are sharp-tongued and not conservative, Whoopi Goldberg in particular. Although last time I was on the show, she said to me, 'You know what? I think I could vote for you.' And I said I must've done something really wrong."
Naturally, this didn't set well with View host Sherri Shepherd, who posed this question aloud Wednesday, "If you can't handle four sharp-tongued women, how are you going to handle the country?"
I guess we can expect some serious tongue-lashing on The View next month.
Watch the announcement below via ABC:
[h/t The Wrap]
— —
>> Follow Laura (@LauraDonovanUA) on Twitter.
Have a tip we should know? [email protected]