Ron Paul Denies He's Secretly Working With Romney, Says Santorum Is 'Desperate'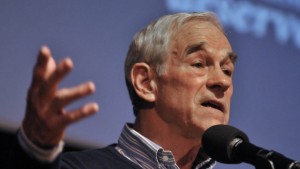 There is a rumor going around that Mitt Romney and Ron Paul currently have a deal going to focus on the other two candidates and not spend much time bashing each other. The rumor was contained to the media until yesterday, when Rick Santorum said during a Tea Party event he attended that it's obvious Romney and Paul have a deal going. Santorum stated that "the coordination I felt at that debate was pretty clear," and found it odd that "in 20 debates, Ron Paul never attacked Mitt Romney."
RELATED: Rush Limbaugh Theorizes That Mitt Romney And Ron Paul Are Secretly Working Together
Paul responded to Santorum's charges late yesterday, after speaking to an audience at Central Michigan University.
"I don't know what all that meant… No, we've never had a conversation, anything like that … but he's a family person, I've known him for five years, so it is a little bit different. But I don't agree with [him on] hardly anything, probably."
As for Santorum's charge that Paul has never gone after Romney in a debate, Paul acknowledged that he has not "volunteered" attacks on the GOP frontrunner as easily as Santorum and Newt Gingrich have, but has done so when he's been asked. Paul said for Santorum to be accusing him and Romney of coordinating this late in the game shows that he's "desperate" to reclaim his lead in the race.
RELATED: Tim Pawlenty: 'The Last Person To Cut A Back Room Deal In American Politics Would Be Ron Paul'
One piece of speculation that Santorum threw out earlier yesterday was that Paul might be angling for a vice presidential position if Romney becomes the nominee.
h/t CBS News
Have a tip we should know? tips@mediaite.com
Josh Feldman - Senior Editor