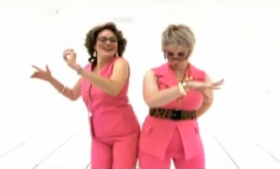 So! "Ronna & Beverly" aired last night. Did you watch? Did anyone? Did the army of Twitter followers of comedy tastemakers like Rainn Wilson, Mindy Kaling, Joel Stein, Paul Feig, Rob Corddry, Rob Riggle, Paul Scheer and Diablo Cody — remember to set their DVRs? Anyone subscribing to the theory of Twitter as a cross-platform influencer should be watching these results, because if Ronna & Beverly's ratings exceed the norm, then it's because of the instant campaign launched by stars/creators Jessica Chaffin and Jamie Denbo, producer Jenji Kohan and director Feig, and their lightning-quick marshaling of influencers online. It just might say a lot about the possibilities for marketing television — not to mention the power of niche communities. It's an interesting test case, one that anyone who cares about this stuff should keep their eye on — even Chuck, with its army of internet fans, had time to build fan-love with multiple episodes and an NBC-sized budget. If Ronna & Bev can do it with a pilot and an army of their UCB pals, then that is a big deal.
But all that aside — it's damn funny. I'd seen the pilot but watched it again last night and cracked up anew, catching little things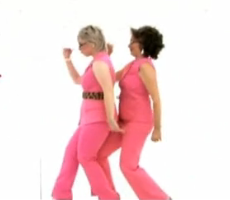 I'd missed the first time around. Denbo's Beverly is the clueless, blurty Thelma to her partner's Louise, and has more of the slapsticky moments, but Jessica Chaffin's Ronna cracked me up multiple times with her interjections into Beverly's often cringe-inducing ramblings, and her reactive facial expressions speak volumes. (Beverly gets some action in the pilot with her handyman, Ray Natoli, who is hired to instal a mini-fridge by her bed – that's not all he installed! – but if this pilot gets picked up I will be very interested to see the more tightly-controlled Ronna get a love interest. I it will be interesting to watch this woman who operates within such a rigid structure of rules get shaken up. Also, I want to see a flashback to the scene at Ronna's son's Bar Mitzvah where Beverly showed up wearing the same dress as Ronna.)
Anyhow – the first online clip as far as I can tell is below, exclusively at Mediaite because a few people we follow on Twitter reminded us to set our DVR. What do you think?


As I mentioned in my piece yesterday, I know and am friends with Chaffin, Denbo and Kohan, but Feig I've just admired from afar. Bias declared, but also, as I said yesterday, I was a fan before I knew any of them
Have a tip we should know? [email protected]