Rubio Mocks Trump's Horrible Spelling: 'He Must Have Hired a Foreign Worker'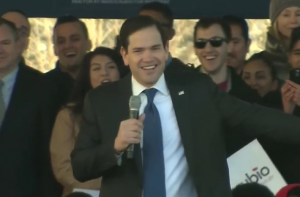 Marco Rubio gave an energetic Texas speech Friday following a strong debate performance the night before, at one point pulling out his phone to riff on Donald Trump's atrocious spelling while throwing in jabs at his GOP rival's age, temperament, and tendency to hire foreigners.
"He spelled 'choker' C-H-O-C-K-E-R," Rubio read off to laughter. "He calls me Mr. Meltdown. Let me tell you something, during one of the breaks, two of the breaks, he went backstage, he was having a meltdown."
"First, he had this little makeup thing applying makeup around his mustache, because he had one of those sweat mustaches. The he asked for a full-length mirror… maybe to make sure his pants weren't wet," he said to the crowd's delight.
"Next tweet: 'Leightweight chocker Marco Rubio looks like a little boy on stage. Not presidential material.' He meant to say 'lightweight,' but he spelled it L-E-I-G-H-T, so he got that wrong."
"'Looks like a little boy on stage…' I wouldn't even be the youngest president, but he would be the oldest president ever elected. And it's like an eight-year term, so you start to worry," he joked.
Finally, Rubio got to the "honer" tweet. "I don't even know how he got that wrong, because the 'e' and the 'o' are nowhere near each other on the keyboard," he noted.
All of which led up to the big punchline: "So how does this guy in three tweets misspell words so badly? I only reach two conclusions; number one, that's how they spell those words at the Wharton School of Business, where he went. Or number two, just like Trump Tower, he must have hired a foreign worker to do his own tweets."
Watch above, via CNN.
[Image via screengrab]
——
>>Follow Alex Griswold (@HashtagGriswold) on Twitter
Have a tip we should know? tips@mediaite.com