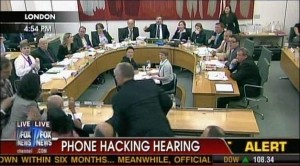 Rupert Murdoch's testimony to a British Parliamentary nearly completed without incident until the very end of the question, when it appears that the News Corp. CEO was attacked in some way by an individual in attendance. The jarring interruption startled nearly everyone involved in the proceedings that had evolved into a soporific tone.
Details are now emerging. CNN's is reporting that someone from the public wearing canvas trousers and a checked shirt, walked to the front to the back and pulled out some shaving foam which he put on the face of Rupert Murdoch. Wendi Deng, Murdoch's wife, immediately jumped up and struck the individual. The individual who struck Murdoch is said to have exclaimed "you are a greedy billionaire."
The Telegraph's James Kirkup was in the room at the time of the attack and has quickly written up the following account:
What you might not have seen is the full instinctive and furious reaction of Mr Murdoch's wife, Wendi. Having sat through the evidence unsmiling, she moved faster than anyone else. First, she swung a slap at her husband's attacker. She followed up by picking up the plate and trying to strike him with it. And then she moved back to her husband. Sitting on the table before him, she started to clear the foam from his face, sometimes embracing him, holding his bald head in her arms.

As for Mr Murdoch, his reaction was as limited as his wife's was expansive. He sat, barely moving, as the room erupted in anger. Behind him, his legal team protested to the security staff and the committee chairman. Before him, committee members fulminated about the "disgrace". A policeman, his face also plastered with foam, struggled to restore calm. Was Mr Murdoch contemplating the event and its meaning? Or was he simply physically stunned? Certainly, the presence and authority he had periodically shown during his evidence had gone. He looked shaken.
Video of the incident can be viewed, embedded below courtesy of Fox News.

And another video that includes a close up angle and reveals the alleged assailant:
Have a tip we should know? tips@mediaite.com