Good News! Nazi Twin Singers Have Renounced Hate (Thanks To Pot And Bob Dylan)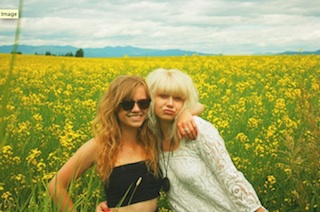 There's a lot of depressing news out there this week, most of it involving the ongoing phone hacking scandal that just seems to get worse and worse every day. Doesn't anything ever get better in this world? Well, fortunately, the News Corp.-owned The Daily has at least one story that features a happy ending as, this weekend, they published a profile of Lamb and Lynx Gaede, the young twins who you may remember as the members of the Nazi-themed folk band Prussian Blue that became infamous a few years back. It turns out that the sisters have renounced the ideals of white supremacy that they used to sing about. Heck, it turns out they're now a couple of pot-smoking, liberal artists!
In the mid-2000s, the girls were regularly appearing on shows like ABC's Primetime and shocked America with the cognitive dissonance caused by seeing a band that looked like a couple Dakota Fannings and sounded like Edward Norton's character in American History X. Like that character, they've now seen the light. And they didn't even need a series of heavy-handed conversations in a prison laundry room to do it.
From The Daily:
"But after enrolling in public school and moving to Montana — a predominantly white state, albeit one with a decidedly hippie-ish vibe — Lamb and Lynx decided they simply no longer believed what they'd been taught.

Their transformation first became evident to Prussian Blue's fans during the band's 2006 European tour, a double bill with the Swedish white-power warbler Saga. Along with their familiar repertoire of Skrewdriver covers, racist folktunes glorifying Rudolf Hess and other Aryan "heroes," and perky bubble-gum ballads about boys and middle school, the girls threw the audience a curve ball — a rendition of Bob Dylan's 'Knockin' on Heaven's Door.'

'Mama, put my guns in the ground,' they sang to a smattering of boos from the crowd of Scandinavian skinheads and other far-right music aficionados. 'I can't use them anymore.'"
Maybe they should have sang some tunes from Dylan's brief born-again Christian phase.
Ha, just kidding. No one likes those albums. Not even Neo-Nazis.
The girls' story is absolutely fascinating. While their white-supremacist mother feels that their newfound liberalism is most likely a "phase," she hasn't tried to stop them. The rest of the movement hasn't been so friendly however, and the girls have mostly been silent in the public for fear of retribution. Meanwhile, a satirical musical was written about them and is set for a Broadway debut, they're planning to attend college, and they've now set their eyes on another cause: medical marijuana.
Both girls have suffered from bad medical concerns (cancer, scoliosis) and were recently turned on to the pain-relieving effects of pot:
"'I have to say, marijuana saved my life,' Lynx told me. 'I would probably be dead if I didn't have it.' She discovered pot while recovering from her cancer treatments. She'd been prescribed morphine and OxyContin, which she quit cold turkey. One day when she was having a bout of nausea, a friend offered her a toke. She was reluctant at first. The girls' biological father had been 'a druggie' when they were young, Lynx said.

But the drug worked wonders, and soon Lynx became one of the first five minors to get a medical marijuana card in Montana. Now Lamb has one, too.

Pot has also helped the twins rekindle the creative impulses they once channeled into their music. They've both taken up painting — astrological themes, mostly — and Lynx restores furniture. They hope to enroll in college, and intend to dedicate themselves to making medical marijuana legal in all 50 states."
Even the staunchest of pot prohibitionists would have to agree that this is an improvement over, y'know, Naziism.
So, good luck to the sisters. We wish them well.
You can read the full article by Aaron Gell here and you really should. It's a fascinating read. Watch a video from their past below:
(h/t Reddit)
Have a tip we should know? tips@mediaite.com