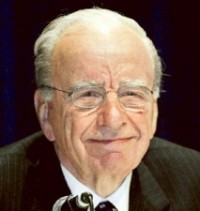 And here you thought he was just a big Grinch! Gawker has obtained the holiday message media mogul Rupert Murdoch sent out to his entire team today in an email entitled "A note to all staff: Mr. Murdoch's Holiday Greetings 2009." It was, of course, sent out by "Corporate Affairs" to "Corporate Affairs," but signed by Mr. Murdoch. (It's also unclear from this letter which businesses were given additional, company-specific messages.) Still, we're willing to wager 12 fruit cakes and 3 cartons of egg nog that the Aussie Scrooge didn't sit down at a computer during any point in the conception or execution of the below email.
Maybe that's needlessly cynical, because how many other media moguls are penning their own holiday letters, but if you're a Murdoch-owned employee, does this feel authentic? Or validating? Or would you rather receive nothing?
"This has been one of the most challenging periods in our history, but, as I wrote to you in February, the steps we are taking today will define the character of our company for many years to come," the letter begins. The praise is deservedly high — Murdoch highlights "resilience and creativity," as well as "unique solutions" in difficult times — but the letter is, perhaps necessarily, vague considering the amount of people who received it.
The longest paragraph of the note, though, is indeed a list of accomplishments, in which Murdoch specifically cites his film properties, Fox News and Fox Business Network. As noted by Gawker, the Wall Street Journal is absent in name, as is the New York Post. Maybe they got individual emails?
There's the requisite back-patting ("Together we informed and entertained, but more importantly, enriched the lives of hundreds of millions of people across the globe.") and sentimentality ("We are stronger because of your dedication."), but overall, no surprises. Read the whole email below, via Gawker:
From: Corporate Affairs
Date: December 15, 2009
To: Corporate Affairs
Subject: A note to all staff: Mr. Murdoch's Holiday Greetings 2009

Dear Colleagues,

This has been one of the most challenging periods in our history, but, as I wrote to you in February, the steps we are taking today will define the character of our company for many years to come.

As I have travelled around the world, I have been struck by your resilience and creativity, even in the face of the sharpest advertising downturn ever. In tough times, our company is leading the industry in expanding and adjusting our business models to reflect the huge changes that are underway across the media landscape.

You've made difficult decisions and instituted unique solutions to ensure our businesses continue to perform at the highest levels. Thanks to your hard work, I am confident that we enter the new decade strongly positioned, renewed in spirit and determination, and prepared for more progress and success.

Together we informed and entertained, but more importantly, enriched the lives of hundreds of millions of people across the globe. We continued to pursue our goal of being the world's best producer of media content, spreading the message of freedom we all believe in. Across all our businesses we advanced our digital initiatives, while holding true to our values and commitment to change for the better, including our support for clean energy and the environment.

In news, we asserted the value of quality journalism in society. Many of our newspapers are among the world's best performing. In
publishing, we produced stories that captured readers' interests and aspirations and made impressive strides towards books' digital future. In movies, we are providing the most compelling and advanced filmed entertainment in the industry. Blockbusters like Ice Age 3 and Avatar may well change forever the way movies are made. Our international TV assets expanded in many countries and languages, including the number one network group in the world's largest democracy, India. We extended pay-TV in Western Europe. FOX News in the U.S. remains the undisputed cable news leader. FOX Business Network is growing its viewership and Fox Broadcasting Company had its best fall season ever.

Alone, each of these accomplishments is impressive. Together, they are a record of achievement few, if any, companies can match. Above all, they reflect the immense talent and leadership that you and your colleagues around the world bring to News Corporation every day. We are stronger because of your dedication. I am very grateful for your efforts and very proud of your performance.

My sincere best wishes to you and your families for the holidays.

Rupert Murdoch
Rupert Murdoch Wishes Some of You Happy Holidays [Gawker]
Have a tip we should know? tips@mediaite.com