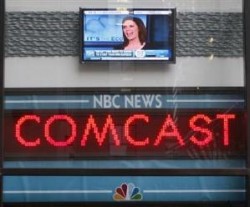 Ever since Fox News launched in 1996, it has been alone in the cable news world as the only right-leaning network (in the words of Bill O'Reilly).
Wouldn't it be ironic if it was NBCU that launches the first competing network? It's now a possibility, thanks to the Comcastic new deal.
Kenneth P. Vogel of Politico talks to Comcast's Executive Vice President David L. Cohen for a larger article about the company's political ties. Cohen himself is a major Democratic donor and fundraiser, but said the company has worked to "foster an image as a 'purple' company."
But Vogel writes that Comcast may have another trick up its sleeve:
Cohen – who oversees the company's Washington operation spent last week pitching the deal to regulators, editorial boards and reporters – described himself as "a news junkie" who watches MSNBC, CNN and Fox News. He didn't dismiss out of hand the possibility of launching a right-leaning network to compete with Fox News, and he said Comcast wouldn't tamper with NBC or MSNBC's operations.
MSNBC – a left-leaning cable news outlet – and a right-leaning competitor to Fox News, under the same Comcast/NBCU umbrella? It would be a very bold move. It would be almost unfathomable, but in the current state of the media industry, where conglomerates are merging with conglomerates, this could be where we're headed. Will Rupert Murdoch launch a left-leaning competitor at News Corp. aimed at knocking MSNBC out of picture completely?
Keith Olbermann weighed in on the Comcast takeover, saying: "I'm confident they know exactly what they're doing and exactly how valuable a commodity MSNBC has become."
Here's one more quote from Cohen to Politico about his company's space in the political sphere:
Cohen explained that Comcast's job is not "to shape the content that people receive. It is our job to facilitate the delivery of a diverse set of voices and opinions to consumers, and we believe it's up to the consumer to decide which of that content he or she would like to listen to or watch and which of that content he or she would like to avoid."
This Comcast/NBCU deal will stay in the news for the next year, and likely even longer. Expect more side storylines like this to bubble up while the process continues.
—–
» Follow Steve Krakauer on Twitter
Have a tip we should know? tips@mediaite.com