Rush Limbaugh On Doing Family Guy: "I Come Out Looking Like A Champ On This Thing"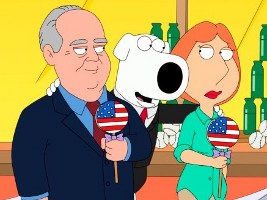 Rush Limbaugh will guest star as himself on this weekend's episode of Family Guy, and as he does on just about everything, had something to say about it on his radio show today.
Here's a synopsis of what to expect:
When Brian learns that Rush Limbaugh (guest-voicing as himself) is going to be at the Quahog Mall for a book-signing, he decides to go down there and give him a piece of his left-wing mind. But when Rush unexpectedly comes to Brian's rescue, Brian has a political change of heart.
Limbaugh said he's bringing his "usual bravado and bombast" to the performance, and he certainly brought it to his preview by uttering the quote in the headline of this post. He added that the voices for the episode were recorded a year ago, so don't expect things to get too topical.
Limbaugh also seems to hold Family Guy creator Seth MacFarlane in surprisingly high regard, considering the latter's left-wing political views, saying, "He's a Hollywood liberal, but we get along." Maybe it's not hard to see why: Limbaugh also sounded like he admired the show for how it "crosses the line every night that it's on," something he's got plenty of experience with being accused of himself.
Oh, and Limbaugh agreed with a listener who thinks he's reaching out across the political aisle more than Barack Obama is by doing the episode. Apparently his tolerance for Democrats has its limits. Audio of Limbaugh's remarks below.
Have a tip we should know? tips@mediaite.com