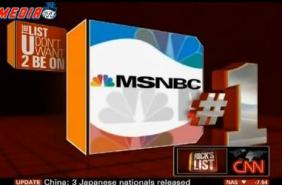 On the heels of John King's MSNBC/FNC related segment last night, his colleague Rick Sanchez threw MSNBC on "The List U Don't Want 2 Be On" today.
After reading Bill Burton's quote about MSNBC, Sanchez launched into his monologue about how he's happy he's not a White House friend or foe.
Before putting the network on his "list," Sanchez said he tried to contact Rachel Maddow and Keith Olbermann for comment, but they weren't available. Olbermann did respond on Twitter after: "Thanks to everybody who tweeted me about @ricksanchezcnn I had no idea my first fill-in host was back on tv! Way to go, Rick, congrats!"
Back to the segment. "In an effort to praise them, Burton has actually revealed MSNBC's bias," said Sanchez. "Or at least what the White House perceives as their bias."
More, and a knock on both MSNBC and FNC:
Since when is news supposed to have a limited point of view? Only progressive? Oh that's right. I just remembered. Ever since Fox decided to give mostly the conservative, Republican side, then MSNBC followed suit with mostly the liberal, Democratic side. I guess I forgot.
Sanchez said that, like King, he's glad he's at CNN and not part of either side in this. "I wasn't necessarily liked by the Bush White House, and I don't think I'm particularly liked by the Obama White House as well," he said. "And you know what, that's the way I like it."
And that's not some "psycho babble". Check it out here:

—–
» Follow Steve Krakauer on Twitter
Have a tip we should know? tips@mediaite.com