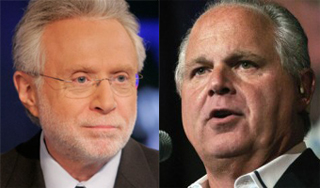 On his radio show Wednesday, Rush Limbaugh lambasted CNN and The Situation Room host Wolf Blitzer for "setting up" Donald Trump, accusing the network of ambushing him with questions on the birther issue during Tuesday's interview in order to create a media frenzy.
"It was clearly a set-up," Limbaugh said. "Here's Donald Trump being set up by Blitzer and CNN, for the express purpose of what? Using that interview last night to do nothing but besmirch Romney with Trump and this birther business. That becomes the media narrative all day, so you can talk about Romney and his associations."
RELATED: Donald Trump Doubles Down On Birther Nonsense, Gets Flogged By Wolf Blitzer
"Here's the AP headline," Limbaugh continued. "'Romney clinches nomination, but Trump overshadows.' New York Times: 'Romney finds himself upstaged by Trump on big day.' Reuters: 'Trump birther remarks overshadow Romney appearance.' Los Angeles Times: 'Donald Trump steals limelight from Romney campaign.' Detroit Free Press: 'Donald Trump overshadows Romney nomination.' Yahoo News: 'In Vegas. Romney claims the nomination, the focus is on Trump.' And there's another AP story: 'Trump overshadows Romney with birther talk.'"
Limbaugh then described how he believes CNN laid the trap for Trump:
They don't tell Trump they're gonna to talk about the birther issue. When they talked, nobody at CNN told Trump they were going to bring this up. They probably told Trump that they were going to talk about OPEC and China and jobs and the economy and the advice that he's giving. … That's how this stuff works. That's how they reel guests in. That's how they utilize the deceit, and they get you on there, and look, the whole interview is about the birther thing. When they get Trump on, that is the dominant topic, and they get Trump on record and then that serves as the media narrative all day today. And the media narrative all day today is: Trump steps on Romney's big day, Trump takes glory away from Romney.
Limbaugh added that Trump probably should've known better than to accept the appearance, but still laid blame upon CNN for the incident.
Listen to the audio below:

(
h/t Daily Rushbo
)
Have a tip we should know? tips@mediaite.com