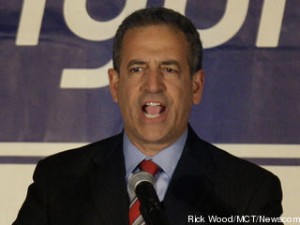 Ousted from the Senate in 2010, Russ Feingold, may have fewer Democratic friends to count on if he chooses to enter the race to replace retiring Sen. Herb Kohl (D-WI). The progressive icon eviscerated his former colleagues in an e-mail for his advocacy group Progressive United on Tuesday, accusing two prominent Democrats of enabling "corruption" by opposing new transparency measures on political donations.
"This culture of corporate influence and corruption is precisely what we as Progressives United want to change," he wrote. "So we've decided to take on those legislators who are unwilling to stand up to corporate power, and we're naming names."
The names included House Minority Whip Steny Hoyer (D-MD) and Sen. Claire McCaskill (D-MO). In addition, the email targeted Sens. Mitch McConnell, (R-KY), Rob Portman (R-OH), Joe Lieberman (I-CT), and Rep. Darrell Issa, (R-CA).
Feingold accused the group of backing "corporate interests in Congress" by opposing an executive order under discussion in the White House that would require government contractors to reveal their political donations.
"If we make contributions public, we can hold legislators and contractors accountable. We can shine the bright light of transparency on the whole practice of awarding government contracts, so the American people can truly see what is going on,"he wrote. "Let's start by holding the defenders of corruption accountable to their constituents right now."
The chair of the Wisconsin Democratic Party has floated Feingold as a possible contender to replace Kohl and Feingold's former chief of staff has said Feingold will decide on the race "in the coming months." Feingold was always popular with the left's grassroots and progressive advocacy group Democracy For America has already launched an effort to draft him. His comments on fellow Democrats could make for an awkward welcome should he return to Washington.

Note – this post was written by Benjy Sarlin for Talking Points Memo, and is republished on Mediaite via a content sharing agreement.
Have a tip we should know? tips@mediaite.com