'Russian Dressing is For Sandwiches': Twitter Reacts to Sean Spicer's Salad Comment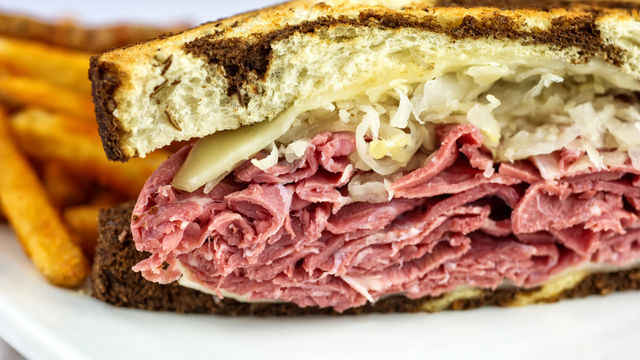 Today, White House Press Secretary Sean Spicer answered April Ryan's question about the administration needing to "revamp its image" because of things like its connections to Russia by saying that no connection exists. He then said something that will no doubt be remembered for a long, long time: "If the president puts Russian salad dressing on his salad tonight, somehow that's a Russian connection."
There's a lot to unpack here. First, has Spicer ever eaten Russian dressing? It doesn't really go on salads. Reuben sandwiches, definitely. But not salads — Twitter was quick to point this out:
@YAppelbaum also, ew. russian dressing goes on a reuben, not a salad. the condiment outrage is unending with this one.

— Alexandra Marshall (@AlexMAbroad) March 28, 2017
Come on, Spicer. Everyone knows that Russian dressing is for Reuben sandwiches, not salad. https://t.co/S4MFSvW3b8

— Bryan Myrick (@BryanMyrick) March 28, 2017
Russian dressing goes on a reuben, not on a salad.#FakeNews

— WillAtWork (@WillAtWork) March 28, 2017
By "salad," I presume he means "Reuben sandwich," the only acceptable use for Russian dressing https://t.co/Uep52eYaB8

— Seán Bartz (@excitedstate) March 28, 2017
Russian dressing is gross – on salads. On a roast beef sandwich or reuben? Heavenly.

— hfp (@hfp325) March 28, 2017
@Acosta @seanspicer everyone knows the sole purpose of Russian Dressing is to make a Reuben sandwich. That's it and that's all. Salad please

— Eugenia L Fien (@TheEugeOptimist) March 28, 2017
Others interpreted "salad" as "word salad," and found it made more sense that way:
Sean gave us a word salad with Russian dressing today. Trump is pushing American steel as they unload Russian steel for the pipeline.

— Ann (@Somberstarfish) March 28, 2017
@CBSNews Russian dressing on his word salad, that is.

— Mark Tully (@MarkTully20) March 28, 2017
@seanspicer pours Russian dressing over today's word salad. #trumprussia pic.twitter.com/uQl272zaSk

— Victor Lazlo (@vlazlo2020) March 28, 2017
Today's Spicer Special…word salad with a side of Russian dressing

— JanieVerDow (@JanieVerDow) March 28, 2017
Others, still, used the opportunity to remind us that Russian dressing on a salad from the President might not be altogether surprising, given his preference for well-done steak with ketchup.
Russian dressing on salad, ketchup on overdone steak. I'm guessing the White House chef has a Sizzler on his resume. https://t.co/2sXbKetmvH

— Citizen Chug (@CitizenChug) March 28, 2017
Spicer's worst move was suggesting Trump likes Russian dressing. That shit's disgusting. It's as bad as ordering your steak well done.

— Rick After Dark (@RickAfterDark) March 28, 2017
The only person who would voluntarily use Russian dressing is the kind of person who voluntarily orders a charred steak with ketchup. https://t.co/cZSA0AUmXx

— Tom Elliott (@tomselliott) March 28, 2017
Let's be honest, if Trump ever DID eat salad, he'd use Russian dressing.

This is a guy who puts ketchup on his steak.

— Peter Stevenson (@PeterWStevenson) March 28, 2017
Trump probably does eat Russian dressing. Well-done steak-eating monster. #PressBriefing

— Jessie Lahr (@JessieLahrr) March 28, 2017
[image via brettphoto/Shutterstock, Inc.]
Have a tip we should know? tips@mediaite.com