Sarah Palin Hits Back At Roger Ailes' Remark That She 'Had No Chance To Be President' (Updated)
Palin Hits Back At Roger Ailes' Remark That She 'Had No Chance To Be President'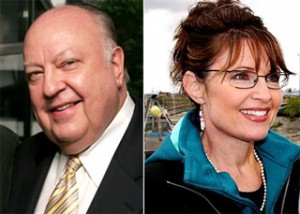 Ahead of her Fox News special Paying at the Pump, Sarah Palin gave an interview to Breitbart.com. Discussing various aspects of energy policies, Palin's final question was about the network's boss Roger Ailes — and her response wasn't exactly glowing.
RELATED: Roger Ailes Thinks 'Palin Is An Idiot'? So Suggests New York Magazine Profile
The question was: "Governor, many people were disappointed that you decided not to run for president this year, but are still hoping that you might one day run for the White House in the future. Roger Ailes was recently quoted as saying, 'Sarah Palin had no chance to be President.' What do you make of that?"
"Interesting," Palin said, before continuing on to say:
I haven't heard all of his remarks, but I wonder if he is aware that the same thing was said about me when I ran for city council, mayor, and eventually governor. No doubt many people who are told they can't do something will work that much harder, and they succeed. Maybe you guys should send him a copy of Steve Bannon's The Undefeated. The theme of Steve's film isn't about me, but about the idea of not letting others dictate one's path in life and never giving up when you're fighting for something precious like our exceptional nation and our children's futures. So, would you send a copy of The Undefeated to him?
You'll recall that last year Ailes made some headlines following a New York magazine profile. The piece quoted a Republican source close to Ailes as saying:
"Roger is worried about the future of the country. He thinks the election of Obama is a disaster. He thinks Palin is an idiot. He thinks she's stupid. He helped boost her up. People like Sarah Palin haven't elevated the conservative movement."
UPDATE: Mediaite reached out to Roger Ailes and he further clarified his remarks from last night's UNC event in context::
He said, "When I hired most of the Republican contributors, none of them had any immediate prospects of becoming President —I wasn't referring to any of their long-term prospects, including Governor Palin. I hired all of them because they made for good television at the time. Sarah Palin is young and nobody can predict the future."
(H/T Breitbart.com)
Have a tip we should know? tips@mediaite.com