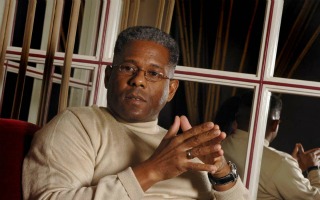 Perhaps the most outspoken member of Florida's congressional delegation is also one of their most polarizing. Freshman Republican Rep. Allen West generates a lot of buzz when he makes a television appearance – and he makes them often. In almost every appearance, however, he makes an avoidable misstatement which suggests that Congressman West is not ready for prime time.

RELATED: Allen West Accuses Kyra Phillips Of Leading Him 'Into A Rabbit Hole' With Questions About Gay Marriage
In the last week alone, West has made two rather avoidable gaffes that highlight his inexperience.
The first, on April 6 and more than once thereafter, West was directly asked by CNN's Kyra Phillips to respond to former vice presidential nominee Sarah Palin's suggestion that he would make an excellent choice to join former Massachusetts Gov. Mitt Romney on the Republican ticket in November. West, inexplicably, agreed.
While West said that he doubts that he would be selected to be Romney's running mate, he insisted that he would "step up to the plate," but not before distancing himself from the views of the likely Republican nominee saying that "we would have to sit down and discuss things."
Of course you would. Because the political views of the world's most visible understudy must comport with those of a potential President of the United States before agreeing to serve.
There is a reason why, when asked about their aspirations for higher office, competent politicians say "while I'm honored to be thought of for such a humbling and important position like the 'X,' I am focused exclusively on being the best 'Y' because the people of 'Z' deserve the best 'Y' I can be."
If nothing else, such an answer shows that the politician in question knows how to deal with the media. That answer keeps the focus of attention off of the subject of the interview and on issues that matter – the interviewee's job performance and the presidential race in particular.
But the gaffe parade continues. On April 11, in a stunning throwback to the painful era of McCarthyite witch hunts, West went on to say that had 'heard' no less than 78 to 80 of his colleagues in the House were communists.
Fox News' Chad Pergram took to Twitter to clarify that West was making a tongue-in-cheek reference to the House Progressive Caucus. West's 2012 reelection campaign manager, Tim Edison, clarified further that "a stupid reporter with a local publication misquoted the entire thing, and they all jumped on one press account without verifying."
"It's all typical West Wing marching orders for their friends in the press," said Edison.
… Where to begin. It is somewhat injudicious to call your colleagues in the House of Representatives communists – the capital "C" variety of which are responsible for more than one hundred million deaths and murders over the painful course of the 20th Century. West's campaign manager went on to go after the press for accurately reporting West's statements as somehow being aligned with the Democratic party and President Obama.
On MSNBC's Morning Joe on Friday, Joe Scarborough – himself a former Florida representative in Congress, gave West a merciless scolding that was absolutely deserved.
"Here we have a cable news pundit that has shut down the political discourse over the past 24 hours when a sitting United States congressman says something deeply, deeply offensive. And no Republican has spoken out against that," said Scarborough. "Does nobody see there's a little bit of inconsistency here," Scarborough asked fellow guest and former Reagan administration speech writer Peggy Noonan.
Scarborough indulged himself in a bit of hyperbole here – no Republican will respond and thus take responsibility for West's comments because they have enough media training to know what would happen to them and the Republican party if they did. They know that taking on West's comments would win them accolades from the other side of the aisle, but it would also amplify those comments and allow the opposition to tar their party writ large with those remarks.
Scarborough knows this and he was allowing himself a bit of a theatrical flourish in the outburst above. Nevertheless, he is right about one thing; West's comments were "deeply offensive," but they were also amateurish.
West has a bright political career in front of him. He is a decorated military veteran who won his Florida seat from a sitting Democratic representative and thus flipped that district—no small feat. He is a vocal conservative and he governs with an eye towards limited government – Republicans like him and will defend him against Democratic attacks, which are frequent and vociferous. As the saying goes, "you are known by your enemies," and, for Republicans, West has all the right enemies. But the GOP rank-and-file should think twice before embracing a representative as green as West.
They don't call it politics for nothing. Governing and campaigning are learned skills, and it takes practice and study to be good at them. Being as incontrovertible as possible in the media goes hand-in-hand with being a good politician. West is not yet a politician, he is an amateur. Love him or hate him, the past week's events have indisputably proven that.
Watch West's infamous interview with CNN's Kyra Phillips below:
Have a tip we should know? tips@mediaite.com