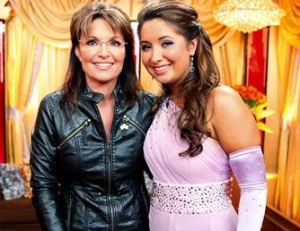 Sarah Palin took to Facebook today to wish everyone a happy Columbus Day — also going on to respond to the threats recently made against her daughter Bristol Palin who is currently on the all-star season of Dancing with the Stars.
Earlier today, TMZ reported that the "FBI and the LAPD have launched a joint investigation into the suspicious package" sent to CBS — and was addressed to Bristol Palin. The package reportedly contained a "white powdery substance" and a threatening note demanding she be taken off the show. She received a similar package back in 2010, the first time she was on the show.
Sarah Palin responded on Facebook, noting that she's in California to support her daughter:
I'm in California today to support Bristol. I'm sorry to see that she's again getting those annoying death threats and more "mysterious white powder" sent to her while on DWTS this All-Star season. These threats sure waste a lot of time, production and public resources; but do the haters really think this will stop Bristol and Mark and the show's producers from keepin' on keepin' on? Silly critics — after all these years of goofy antics like this we find these efforts are actually quite motivating! Bristol's not letting this get her down. Anyway, tonight is a "double elimination" night, so hopefully everyone who has supported her so far will do so again! I'll be sure to post the call in number and voting instructions later today before the event. Thank you again to everyone. It means a great deal during this fun and highly competitive event, and it's sure appreciated!

As Bristol shares with anyone targeted by the naysayers in life: "Hey, the haters will hate anyway; the critics will criticize, so you might as well dance!"
It's true, Bristol. Haters gonna hate.
Have a tip we should know? tips@mediaite.com