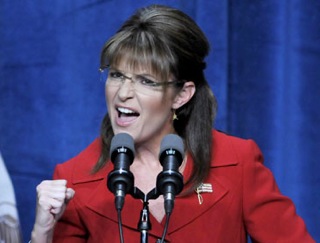 Sarah Palin has remained rather mum since stepping out of the Republican primary last year, but it appears that she is planning a return to some prominence this summer. Palin has been announced as the keynote speaker for this year's Right Online conference, a reunion of bloggers and conservative writers that includes seminars on citizen journalism and newsgathering.

RELATED: Sarah Palin Offers Surprise Endorsement Of Sen. Orrin Hatch
According to Politico, Palin will be delivering the Keynote at the event hosted by Americans for Prosperity and happening on June 15-16. It is the first time that Right Online will be separated in date and time from its left-wing twin, Netroots Nation. They also report that the focus of the conference will change to something more akin to Palin's forte– engaging people in social media in ways that convince them to become more politically active:
This year's meeting is focused on higher-level tactics and strategies than past year's editions of Right Online, which sometimes had the feel of a crash course on blogging 101. The Vegas conference features training on video exposes to be conducted by guerrilla video journalist James O'Keefe, a session on polling featuring conservative's favorite pollster Scott Rasmussen and a session moderated by columnist Michelle Malkin entitled "How to Use Facebook & Twitter to Win," which will include instruction on using social media to drive narratives.
Besides giving the keynote address, Palin is set to introduce two films: Hating Breitbart, a film about the left's relationship with the late Andrew Breitbart, and Occupy Unmasked, which will focus on the popular 2011 political movement Occupy Wall Street.
—–
» Follow Frances Martel on Twitter
Have a tip we should know? tips@mediaite.com