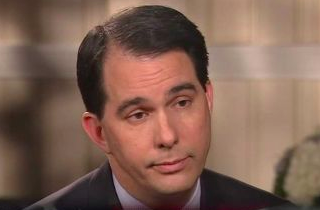 Gov. Scott Walker (R-WI) has not yet officially announced his candidacy for president in 2016 yet, but during an interview on Laura Ingraham's radio show Tuesday he revealed a potentially game-changing strategy to defeat fellow current frontrunners, former Florida Governor Jeb Bush and Sen. Marco Rubio (R-FL).
Asked about Bush's decision to skip the Iowa Straw Poll, Walker assured Ingraham that if he does jump into the race as expected, he is "going to make a strong play in Iowa." But as for the home state of Bush and Rubio, he's not so sure.
"I don't think there's a state we wouldn't play in, other than maybe Florida where Jeb Bush and Marco Rubio are — listen some of the polls are essentially tied and they're going to eat up a lot of that financial advantage that Governor Bush is going to have," Walker said, adding that "a good chunk of that will be gone after the Florida primary."
Flordia's primary is relatively late in the overall schedule as of now, falling on March 15, two weeks after the likely Super Tuesday on March 1 and close to two months after Iowa and New Hampshire weigh in at the beginning of next year. But if it were to work, he could head into the second half of the primary calendar with a lot more funds that his rivals.
Walker's potential strategy would essentially be the opposite of what Rudy Guiliani tried in 2008, putting all of his eggs in the Florida basket. And we all remember how well that turned out.
Listen to audio below, via The Laura Ingraham Show:
[h/t Huffington Post]
[Photo via screengrab]
— —
>> Follow Matt Wilstein (@TheMattWilstein) on Twitter
Have a tip we should know? tips@mediaite.com