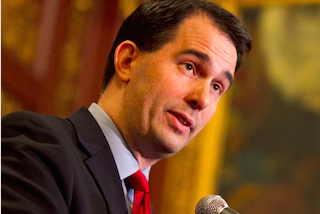 When Gov. Scott Walker (R-WI) was asked during a CNBC interview last week whether he agrees with Rudy Giuliani's assessment that President Barack Obama "doesn't love America," he declined to answer. Now, he's using the incident to raise money for his future campaigns.
In an email to supporters sent out Sunday, Friends of Scott Walker denounced the "small, petty, and pale ideas that the 'gotcha' headline writers for the Liberal Media want to talk about." As an example, the group cited the "sideshow of answering pointless questions about whether and how much President Obama loves our country."
The email asked for contributions of $10, $100 or $1,000 to help the governor "stand up against the publicity hounds and the journalistic pack."
By contrast, Republicans like Senators Marco Rubio (R-FL) and Rand Paul (R-KY) each said unequivocally when asked that they believe the president loves his country.
Earlier this month, Walker faced criticism for refusing to say whether or not he believes in evolution during an interview in England. Then, in an interview with the Washington Post this weekend, the governor said he did not know whether President Obama is a Christian.
"To me, this is a classic example of why people hate Washington and, increasingly, they dislike the press," he said, turning the issue around on the reporter. "The things they care about don't even remotely come close to what you're asking about."
Read the full email below:
Governor Scott Walker has always believed in standing up for big, bold ideas.

And he refuses to be distracted by the small, petty, and pale ideas that the "gotcha" headline writers for the Liberal Media want to talk about. He refuses to be drawn into the sideshow of answering pointless questions about whether and how much President Obama loves our country. To Governor Walker, what matters are ideas, issues, his record, and results. If you agree, please stand with him with a contribution of $10, $35, $50, $100, $250, or more.

When you have a record like President Obama and the Democrats', the last thing you want to talk about are results. That is why their defenders in the mainstream media love to distract the public. That is why they sensationalize the news, promote Democrat propaganda, and demonize Republicans.

Enough is enough.

Now is the time to stand up against the publicity hounds and the journalistic pack, and help Governor Walker fight back with a "Friends of Scott Walker" contribution of $10 or $100 or $1,000 or whatever amount is right for you. Your support will show the clueless and mindless journalistic herd that you know what matters most and that it is not the pointless minutiae that they are pushing.

Thanks for everything you do,

Team Walker
[Photo via Wikimedia Commons]
— —
>> Follow Matt Wilstein (@TheMattWilstein) on Twitter
Have a tip we should know? tips@mediaite.com