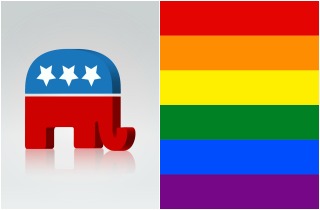 Following news last week that a gay Republican group was potentially excluded from the Conservative Political Action Conference (CPAC) for the third year in a row, the Log Cabin Republicans (LCR) announced on Monday that it will participate in a panel discussion at the conference.
Former Romney adviser Richard Grenell revealed on Fox's Red Eye last week that he personally might have been "uninvited" from speaking. In a statement, LCR National Executive Director Gregory T. Angelo accused the American Conservative Union (ACU) — the group that organizes CPAC — of "hiding behind a fig leaf stating gay people are welcome as guests."
CPAC organizers, though, told Mediaite on Friday that they do not have any record of Grenell having been invited to or uninvited from any speaking engagements this year.
In a turn of events, LCR announced in a new statement on Monday that they were invited to participate in a panel discussion at the conference following "fruitful conversations" with ACU leadership.
Full statement below:
"It will be an honor to represent Log Cabin Republicans at CPAC 2015 as part of the panel "Putin's Russia: A New Cold War?" with Seth Cropsey, Carly Fiorina, Cliff May, and Amanda Bellows.

There has been a great deal of confusion over the last 48 hours regarding the Log Cabin Republicans role in CPAC 2015. After some very fruitful conversations with the leadership of The American Conservative Union, we would like to express regret if anyone associated with The American Conservative Union felt unfairly maligned. That was never our intention.

For years, all we have wanted is for Log Cabin Republicans to be able to provide a meaningful contribution to CPAC, be it as sponsors, speakers, or panelists. Now is not the time to make the perfect the enemy of the good. Log Cabin Republicans will continue working toward full sponsorship of future CPACs. In the meantime, I look forward to bringing the gay conservative perspective to CPAC 2015 on behalf of Log Cabin Republicans, as well as the message that when conservatives focus on unity rather than division, we win."
[Images via Shutterstock]
— —
>>Follow Andrew Desiderio (@forza_desiderio) on Twitter
Have a tip we should know? tips@mediaite.com