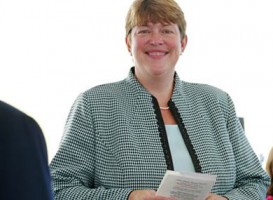 The NY-23 special election continues to get stranger and stranger. Now that Republican Dede Scozzafava has dropped out of the race and endorsed her Democratic opponent, Bill Owens, it's fair to say that it's one for the history books, regardless of whether Owens or Conservative challenger Doug Hoffman prevails.
But what will they record? Pundits on both sides of the aisle are already writing the rough drafts.
This past weekend, the New York Times' Frank Rich denounced Hoffman's supporters, including Sarah Palin, Michele Bachmann, and Bill Kristol, as "G.O.P. Stalinists" committed to ideological purity over electable candidates. According to Rich, "it's even better for Democrats if Hoffman wins. Punch-drunk with this triumph, the right will redouble its support of primary challengers to 2010 G.O.P. candidates they regard as impure."
The very ideological right-wingers that Rich denounces, on the other hand, are celebrating what they rightly see as a successful grassroots rebellion against the party machine. Two weeks ago, in a blog post supporting Hoffman's candidacy, Kristol wrote that "Today, the Wall Street Journal has a story on the race with the headline Tea-Party Activists Complicate Republican Comeback Strategy. The truth is the opposite: The GOP establishment complicates the Republican and conservative comeback strategy."
Recent conservative analysis is going on in much the same vein; over at her blog, Doug Hoffman early adopter Michelle Malkin dismisses Scozzafava as a "radical leftist" and a "spoiler." Meanwhile, Drudge-looking conservative aggregator TCOT Report, which has been blanket covering this story, denounces the former Republican candidate as "Benedict Arnold Scozzafava:"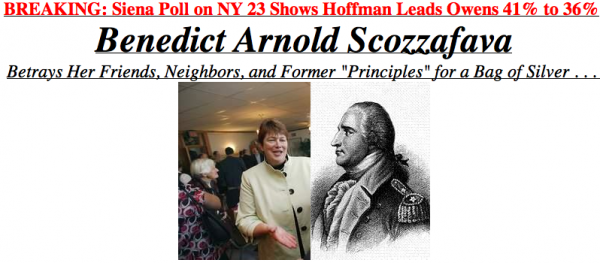 As Hot Air points out, commenters on Newt Gingrich's blog are flaying him over his support for Scozzafava, which he expediently switched over to Hoffman after Scozzafava's withdrawal.
Meanwhile, Politico has the fascinating story behind Scozzafava's endorsement of Bill Owens, which involves back-alley New York State politics and a possible phone call from Rahm Emanuel:
When some senior Democrats worried Scozzafava might be wavering about the endorsement, according to another account, the White House got Assembly Speaker Sheldon Silver, one of the most powerful figures in the state, and New York Attorney General Andrew Cuomo to place calls to the assemblywoman on Saturday evening to coax her into delivering it. Sen. Charles Schumer, who had been in touch with White House Chief of Staff Rahm Emanuel and [Rep. Steve] Israel, also weighed in.

Two senior Democrats with ties to the White House praised Cuomo's role in the operation, saying they were confident Scozzafava was on board after learning that she told Cuomo: "You're going to be the next governor of New York."

Also critical was Silver's assurance, in a phone conversation with Scozzafava, that the state Assembly Democratic caucus would embrace her if she chose to switch parties, now viewed as a real possibility after her endorsement Sunday of Owens.
As is obligatory to say in all blog posts about NY-23, it will be interesting to see how this plays out; even Nate Silver has essentially thrown his hands up and given up on prognosticating on this one given the number of unknown variables.
It's worth pointing out that online betting market InTrade (remember InTrade?) currently gives Hoffman a 70% chance of winning.

Have a tip we should know? tips@mediaite.com